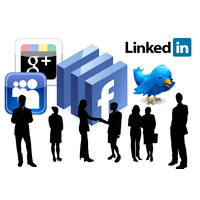 This challenge for SMEs arises due to the fact that most of them do not or are still not using online and social platforms in full throttle. And that is ironic, given that today the most inane of corporate activities can be leveraged with the help of online tools!
Gone are the days when only the big brand names could make their presence felt on the web with the help of enriched optimisation tools. Today, every organisation can reach out to its potential customers, clients and employees with the help of an effective online presence, that too without investing a fortune. Platforms like Twitter, Facebook and LinkedIn have emerged as portals where almost half the world's workforce is present, lives and interacts. Companies, small or big, can tap these talent pools without too much sweat.
Before we get into the details of what strategies will work best for which platforms, let us first look at a few sore areas that keep the SMEs starved of the right resources.
Though almost all organisations proclaim that they have a strong web presence and are aware of the developments taking place in the recruitment space, when analyzed, it has been seen that most organisations are absolutely nonexistent on the social sphere from a recruitment perspective. The reason for this isthe belief that social platforms are meant for socialising and not serious business.
Lack of innovation online is another drawback that keeps the SMEs away from the best resources. With the amount of action online, companies that do not innovate or come up with interesting ideas to engage or attract their target audience can never be successful in making their presence felt on the web.
The inability to smartly package and present job profiles is another problem that SMEs face. Considering the fact that cost pressures are more often than not a serious concern in small enterprises, interesting jobs with lesser pay packages need to be smartly presented in order to help candidates appreciate the job content and career prospects. This smart packaging is what most companies fail to do.
Now that we have underlined the prime factors due to which SMEs do not get right resources, let us look at ways that will help in recruiting via online channels. Mentioned beloware a few tips on getting the best out of the social media platforms:
Facebook: The king of social networks, Facebook has some of the best and most effective tools required for spreading the word and letting people know all that you have to say, offer or do. Though most of us know that it is important to have a Facebook page for our company, not many of us actually go in to the details of what drives people to our page and what makes our posts popular. Therefore, a careful analysis of what people expect from you will play a vital role in helping you manage theFacebook page.
One sure shot way of keeping people engaged and spreading the word about interesting job opportunities with your organisation is encouraging your existing employees to be a part of your networking activities on Facebook. That ways your employees can always share the best of their experiences with the organisation and get more and more people to share the same. Before you know, your company would have received the attention of many potential employees.
Twitter: This micro blogging site can be used as a no-nonsense direct messaging platform where you directly post links to your blogs and even post clear and crisp messages about opportunities available and other achievements of your organisation. Here too, the presence of themost engaged and satisfied employees can help spread the word aboutthe organisation's credibility and thus help to draw the attention of the target audience.
LinkedIn: This is one platform that needs a lot of attention because it is 'professional' and it can get the job done. It would work bestif the leaders of the organisation take the initiative of leveraging the company's brand and image on LinkedIn by taking part in various discussion forums and groups that often float amongst the network members. LinkedIn being a more professional board should be used to attract people capable of taking up middle and top-level managerial roles.
Pinterest: You can use this social channel and take the picture route to show the world how happy your employees are. You can post pictures of your office parties, workplace and surroundings, pictures of employees while at work, company award functions and even corporate meetings, luncheons and dinners. This vivid imagery is sure to work best on young minds and perhaps prod them to enquire about vacancies!
Blogs: A focusedblog withemphasis on job opportunities, information ondealing with interviews, workplace management, leadership skills, teamwork and such others will help get enquiries from targeted professionals.
Remember, these social platforms are highly dynamic in their approach and you need to keep innovating in order to retain the interest of thetarget audience. Only informational content, company videos and leader speeches will bore your target audience even before you know it. So make sure that you have engaging content in the form of forums, contests and even polls, of course with due rewards, tokeep viewers engaged and entertained. It will pay off!