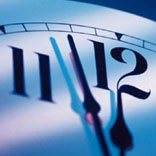 There is one competitive advantage many business owners and entrepreneurs overlook. That advantage is urgency!! Those that are the most competitive have it in them naturally. In time of crisis everyone has to have it. It is a proven fact that with high urgency, stuff gets done not only quickly but also a lot off!
Tips how you create an environment of urgency and how to imbibe it in your employees. 
1. CONTROL THE ENVIRONMENT
You have to create a space that supports the urgency without any kind of abuse. Among many ways to keep everything pepped up and motivating are celebrating wins, having fun and organizing games.  
2. TEAM EFFORT
Operate on a team where there is lots of accountability to the group. To condition urgency, peer pressure and peer support are the fastest ways for everyone to get it. A thumb rule to follow is that it takes more than one to create synergy.
3. CODE OF HONOUR
Ensure that the code of honor supports optimal performance. You are going to turn up the heat and you have to be sure that the rules are very clear. The rules have to support the behavior that supports the goal, supports the team and prevents people from bailing out.  
4. MAKE IT COMPETITIVE
By doing this, it allows everyone to benchmark their progress against others. You are able to see where you stand in the running at all times and know exactly what you need to do to improve.  
5. SET DEADLINES
The closer the deadline, the higher the urgency. Set the goal line and make sure that everyone on your team knows it as well. That is why the classic Monday morning meeting is so powerful. Everyone has to produce every week because they have to show their results to everyone else.
Use these methods in your training, your work and in every important project. If you discipline yourself to operate in this kind of an environment, you will begin to rekindle that natural sense of urgency which will set your mind and attitude to get things faster and more effectively.