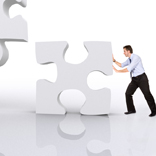 Do you sometimes wonder that despite doing everything right for your business for a few years now, you have not managed to do as well as you had anticipated. Are you struck in a catch 22 situation where you neither see a growth in your organization nor can you get out of your business because you have invested sufficient resources in it? What do you do now? This is the time to pump in fresh blood into your system; this is the time to bring in some change. 
Change the way the people look at your organization, change their overall perception; internally, bring in change in the way your employees work and deliver results. Consider the following 6 cost effective tips to enhance your productivity:-
1.       Change the way of answering calls- This is the first step towards showing your audience that you have changed. Develop a fresh, cool, light yet professional, courteous and welcoming lingo or script for your receptionist. Help your customers in providing the best service you can over phone.  You could develop a few attractive lines or jingles to wish people as well as to promote your brand during festive season.
2.       Redesign your interior- Change the interior infrastructure of your organization in terms of design, colour and decoration. You can either redesign your office or re-colour the walls in a cool and bright colour or decorate your office. The idea is to make it look different than before as doing so would create enthusiasm and excitement among your employees and would help in the flow of positive vibes among your employees. You can also change the seating arrangement and positioning of your employees. Celebrate occasions like achievement of target, promotion or birthday of an employee, festivals, anniversary of the company or department in the form of parties, get-together or picnic.
3.       Enhance employee participation- Take views of your employees on various issues concerning their department and company as a whole and make them feel responsible. Let them take full ownership of the roles assigned to them and fix regular meets with them to ensure proper workflow. Discuss with them the shortcomings for a period or a project and the areas of concern and involve them to discuss as to how they can be answered. "Talking to employees gives them a sense of belongingness" says Surabhi Dewra, Founder and Lead, MeraCareerGuide.com.
4.       Introduce a system of rewards, recognition, promotion and demotion- Reward your best performing employee in the form of incentives, Performance Certificates, perks, gifts, applause or just a word of appreciation. This would motivate others to work hard and earn their share of respect. "There should be transparency so that your employees get to know how their performance is adding to the company's profits and reward them accordingly in the form of certificates, monetary or non-monetary recognition" adds Surabhi
 5.       Introduce training and development programme- This is important as proper presentation before the customers is imperative and by introducing a training and development programme for your employees, you can motivate them to learn something new and enhance themselves. Train them on the way they should present themselves in front on the customers, on their body language and dressing skills.  You can also tie up with companies who provides with Employee Development Programme (EDP)
6.       Hire enthusiastic employees- You could also hire new, enthusiastic employees to pump in some freshness into your company but make sure that you do not hire them to fill the positions but to meet the requirements of the organization. This will save in your costs too.
 I would like to leave you with these tips and suggestions so that you can think of bringing the necessary change in your organization before it's too late.