5 Tips to Avoid Dysfunctional Momentum
Organisation, teams and individuals face dysfunctional momentum when they continue to work towards their original goal without pausing to re-examine their set process. They often ignore early warning signs suggesting the change of course.
Tags: Dysfunctional Momentum, Pankaj Agarwal , Encourage bonhomie
BY Pankaj Agarwal | May 08, 2014 comments ( 0 ) |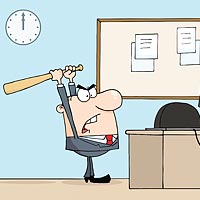 Dysfunctional momentum can arise daily in organisations, and sometimes as a dreadful result leave the people involved wondering about the reason or series of cues leading to a calamity-like situation. Business disasters often start out small, giving signals for the management to take notice, and ignoring the same forces the situation to spiral out of control.
People generally do not take into cognizance the fact that the project may go off-track while taking it to its logical conclusion. It may be a result of lack of monitoring, inflexible planning, pre-determined solutions, too much focus on financial goals etc.
How can you mitigate the effects of such a bad momentum or avoid it altogether? Here are some tips that may help you in avoiding such a situation:
Encourage bonhomie: A culture of friendliness and frankness amongst fellow colleagues is essential so that they can, without any hesitation, raise concerns to their senior colleagues as they are most likely to encounter trouble before the higher-ups do. This can kill or reduce the bad momentum to a great extent.
Learn to say 'No': Once a project starts to show negative trends, one needs to take hard decisions and saying 'No' is one of them. Do not worry over the lost opportunities. In fact, saying 'No' means you need to set your own priorities and boundaries for the moment.
Source information from experts: Surround yourself with experts on the matter and seek help from them. They may offer good advice and information and help you with the right decision-making process in such a situation.
Take some time out to think: Good decisions are not made while texting, answering phone calls or during meetings. It is imperative to carve out some time to think clearly and logically.
Analyse well: Not every decision comes out to be the right one which is why analysing is an important aspect when things start to go wrong. One should take a step back and look at the whole picture and try to learn from it.
One cannot predict an outcome or its success but what one can ensure is to have a back-up plan for the rainy days. A business cannot be run on complacency and this can only be avoided when one weighs all the options, pro and cons, before starting a project.