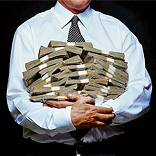 Entrepreneurs are known for their risk bearing ability; even then not many have the ability to put all their savings in their venture. Most of them turn to friends, family or investors to get started. But Rakesh Shukla believes, "It's right only when you start the game with your own skin."
When Rakesh and his wife, Helen started their own venture, The Writers Block (Twb.in), they decided to fund it all by themselves and not turn to any of their family or friends for help. Not just that, both of them also quit their jobs and so had no other source of income but Twb.in.
"We had put all the liquid cash we had in the company. All the money that we had in our accounts, the insurance policies and other investments were put into the Twb.in," Shukla says.
Twb.in is a technical communication outsourcing company that provides services in technical communication and training development for IT products & outsourcing, ITES, banking, financial, aerospace, defense, ship building to hi-tech manufacturing and discrete & process manufacturing. Cisco, Accenture, Samsung, Siemens, AOL, Intel, Infosys, Wipro, Pratt & Whitney, Honeywell, DRDO, and HAL are some of its clients.
Not being capital intensive, there was not much of buying required, which reduced capital investment. But the cost of infrastructure like setting up an office and other operational expenses still had to be borne. The total investment came up to a little less than Rs 50 lakhs.
"The day we opened the doors of our company there were three other people working for us apart from Helen and me. Their salaries had to be paid. All these costs were met with from our personal savings for a few months," Shukla reveals.
But why did Rakesh not seek funding from investors? "We were of the opinion that the effort that we would put in convincing investors 'that we were business worthy' could be used for doing actual business. Secondly, we were not sure what would it be like to have an outsider fund our company," he states.
"The pressure of not having an alternate source of income was immense. It caused a lot of stress personally also. And since both, my wife and me had left our jobs it was even more stressful," he says.
He sums up by saying, "May be it was the pressure and the stress of self-funding that made success imperative for us. With no other way to sustain, we became more focused on what we were doing."
Within the first quarter Twb.in grew to be profitable. The company which started with five employees including the Shukla couple has grown to be a hundred employee company, today.
Self-funding bore fruits for Rakesh and Helen Shukla! What have you decided?