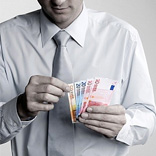 Are you looking for funds for your business? Are banks the last possibility on your priority list? It's time to rise above the notion that bank loan schemes are not entrepreneur-friendly. The government and banks have worked hard on making their schemes easily available to businessmen. Starting from seed fund to start a business to offering collateral free loans, business cards and funds for technology upgradation and modernization, they have a plethora of products even for start-ups.
We bring to you some of the leading banks of the nation and their most popular products meant for small business enterprises.
Small Industries Development Bank of India (SIDBI)
 "We offer a whole range of schemes for micro and rural enterprises, manufacturing and service sector for technology upgradation and modernisation. SIDBI helps MSME in a variety of ways--- direct and indirect finance, and sector specific loans," says KG Alai Chief General Manager, North Zonal Office, SIDBI.
POPULAR PRODUCTS:
Refinance Scheme – Entrepreneurs can avail loans from SIDBI through other Primary Lending Institutions (PLIs) by the bank's refinancing scheme for  
Setting up of new projects or technology- upgradation
Service sector entities
Infrastructure upgradation
The PLIs include State Financial Corporations, State Industrial Development Corporations and State Small Industries Development Corporation.
Collateral Free Credit – Most of the Micro and Small Enterprises (MSEs) are unable to provide collateral security and hence fail to become creditworthy. To deal with this problem SDIBI lends through Credit Guarantee Fund Trust for Micro and Small and Enterprises (CGTMSE). CGTMSE lends through Member Lending Institutions (MLIs) to a single eligible borrower from Rs 50 lakh to Rs 1 crore. The rate of interest is concessional, ranging from 9.5-10.25 per cent.
Scheme for Energy efficiency – In collaboration with Japan International Cooperation Agency (JICA), SIDBI provides assistance for adopting energy saving and clean technology for manufacturing. 
Micro Finance: SIDBI lends through a large number of micro finance partners. In its portfolio, SIDBI has a total of 145 MFIs through, which it has disbursed Rs 3, 800 crores in FY 2009-10. It has a dedicated department to develop a cadre of MFIs for its portfolio.
INTEREST RATE: 11 per cent + 1.5 per cent, depending on risk-rating
NEW SCHEME
Direct Credit Risk Capital – This scheme is meant for first generation entrepreneurs who do not have promoters. SIDBI lends two-third of the risk capital to entrepreneurs without personal security though the rate of interest is higher (14-15 per cent) owing to the higher risk factor.
Industrial Development Bank of India (IDBI)
IDBI Bank has a range of attractive products designed to cater to various segments among SME borrowers, ranging from vendors to manufacturers, dealers and traders. The bank also offers tailor-made products for borrowers like medical practitioners, transport operators, IT service providers, etc. IDBI also has a product for start-up ventures where finance is provided in the form of seed capital.
POPULAR PRODUCTS:
Direct Credit Scheme with SIDBI – Under this scheme the bank grants working capital of Rs10 lakh to Rs 20 crore to all SMEs. The bank requires security for lending under this scheme, which can either be charged on fixed and current assets or personal guarantee of proprietor / partners/ promoter directors.
Preferred Customer Scheme – SMEs having good relations with either IDBI or SIDBI can avail loan upto Rs 200 lakhs (for customers of IDBI) to Rs 100 lakhs (for customers of SIDBI). Loan under this scheme can be availed for non project specific expenses like adding machinery, renovation, marketing related expenses, setting up franchise, brand building, execution of bulk orders, deposits for contracts, temporary shortage of working capital, etc. It can also be for the purpose of initial investments in new projects.
Lending Against the Security of Future Credit Card Receivables - Reputed restaurants, hotels, large petrol pumps, hospitals, IATA approved travel agents and tour operators are eligible for this scheme.
INTEREST RATE: Based on internal rating of the clients and range between Bank's BPLR (Benchmark Prime Lending Rate) – 2.5 per cent  & BPLR + 3.5 per cent. 
NEW SCHEMES
IDBI Sulabh Vyapar Loan – This loan is available for traders and the service sector for tenure of five years or less. An amount ranging from Rs 5 lakh and Rs 500 lakh is provided in lieu of securities like hypothecation of stock & book debts and asset financed by bank, personal guarantee of the borrower or Collateral security upto 110 per cent of the loan amount.
Loans to Professionals & Self-employed -- There are loans available for self employed like medical practioners, IT service providers. For example, medical practioners with minimum MBBS/ BAMS/ BDS/ BHMS can avail loans of Rs50, 000 to Rs 2 crores.
The Bank intends to introduce some more new products both in asset and liability space.
Bank of Baroda (BoB)
POPULAR PRODUCTS
Baroda SME Gold Card -    Those companies having accounts in Standard Category for two years, with credit rating of "AA" and above and enjoying working capital limits of Rs 25 lakh and above or having sole banking arrangement with BoB are eligible for this scheme.
SME Medium Term Loans - Upto 25 per cent of the existing fund based Working capital limits (depending on the Credit Rating), subject to a minimum of Rs 25 lakh and maximum of Rs 500 lakh can be availed by small and medium-sized enterprises if they fall under the eligible criteria.
State Bank of India (SBI)
The State Bank of India is one of the major lenders to the SME sector and has loans of Rs 1,00,000 crore outstanding on its account books.
POPULAR PRODUCTS
Business Current Accounts – The bank offers Business Current Accounts to suit SME business. There are several types of accounts with varying features that can be availed of. Some of them are SME Sahaj Current Accounts, Standard Current Accounts, SME Power Gain Current Accounts, and Power Jyoti Current Account etc.
Small Business Credit Card – Existing units, retail traders and other small businesses with satisfactory track record of two years and new units with good credentials can avail up to Rs 5 lakh under the scheme.
NEW SCHEME
SMILE: Under the scheme the bank will provide interest-free seed capital of about Rs 10 lakh to aspiring entrepreneurs. Currently, banks give loans to the entrepreneurs, only if they have a substantial capital to invest. The loan amount is around 70-80 per cent of the total project cost. Under the new scheme, SBI will provide the seed capital and entrepreneur will also be able to seek a loan. Loan terms and interest rates will be determined as per the existing guidelines. There will be no interest on the seed capital.
Other banks like Union Bank of India, HDFC, Citigroup and Yes Bank also lend to SMEs.