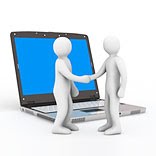 Customer relationship is the very spine of every business, following the fact that Customer is King; no wonder, the industry is realizing including the small fry (SMEs and MSMEs) for whom it is a challenge to hold the handful of customers in face of competition by the big fish who are ready to swallow them anytime.
Why CRM?
The seller is always trying to maximize the value of business relationship with the customers. CRM, which is a well structured and diligently developed business philosophy and strategy, plays a role to gain competitive advantage.  CRM implies satisfying material needs, meeting market expectations, increasing monetary, temporal and psychological benefits. A customer should feel he got more than his money's worth.
Why customers look for a connect
Customers look for a connect to get benefits like credit, support, social value and respectability with his association. They generate lifetime values be it in form of monetary value or synergic value or referral value.
Qualified essentials
Each customer is important; therefore focus of objective is the key. Stress the benefits of the product, make the product acquisition meaningful, generate customer loyalty, and last but not the least, move him to commitment from non commitment level. Customers must be treated like one owns self and therefore there should be a transparency of deal and high integrity.
Role play of Sales Team
Sales personnel are relationship builders and developers, responsible for conflict resolution between the buyer and seller. Quality of sales team has an impact on quality of buying effort. Moreover, they can help identify professional and potential customers over a period of time.
A snapshot
CRM includes
Identifying and targeting their best customers, managing marketing campaigns and generating quality leads for the sales team.
Assisting the organization to improve telesales, account, and sales management by optimizing information shared by multiple employees, and streamlining existing processes (for example, taking orders using mobile devices)
Allowing the formation of individualized relationships with customers, with the aim of improving customer satisfaction and maximizing profits; identifying the most profitable customers and providing them the highest level of service.
Providing employees with the information and processes necessary to know their customers, understand and identify their needs and effectively build relationships between the company, its customer base, and distribution partners.
According to Bhavish Aggarwal of Olacabs, "In every business you incur a certain cost on a first time customer therefore you expect the customer to come again for  repeat value. Since ina  small business, the budget for CRM is small, innovation can only help since customer service is vital".
Uma Ganesh of Global Talent Track shares, " CRM is the backbone of every business, especially of small business. Since the number of people in sales and marketing is small,  the maximum conversion of data base becomes vital. CRM will go a long way in any business, so customer service should be the focus'.