Supply Chain Management and SME
SMEs can reduce cost and increase operating efficiency by fully leveraging supply chain concepts
Tags: SME and SCM
BY Entrepreneur | May 05, 2011 comments ( 0 ) |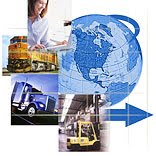 SMEs that are struggling with constraints like finance, infrastructure, human resources etc find it very difficult to add modern SCM into their strategic set-up. Let's us check some other problems and the way out
Problems
SMEs fail to validate centralised organisations for supply chain management involving large corporate staffs in the various business functions so they go for decentralised supply chain organisation. They even lack skilled personnel who have knowledge of sophisticated supply chain. This results in a localised approach, with a focus on local efficiencies rather than on cross-enterprise opportunities strategy and operations. As a result, SMEs
Have a higher total corporate costs
Lower overall efficiencies
Higher costs per unit because of low volumes
SMEs have to try a tad too hard just to get a supplier as the later prefers big parties
The problem becomes more acute for the SME when it decides to work with outsourced supply partners. In that case, the inconsistent product data and IT systems make it difficult to match all the manufacturing and distribution activity. Another area of concern is the lack of detailed process documentation.
Also, large public companies dwarf SMEs for corporate finance options. This limits their ability to fund large investments. It is here that a company comparative can, with little direct investment, broaden its reach by using supply chain partners.
Bailing out
One must continually speak with current and potential vendors about volume, price, and service needs and to periodically open up bids to additional vendors. This dialogue will provide them with a market picture to compare against current vendors while opening up the possibility for new service and pricing options.
SMEs can implement a business process inventory across the company. This requires personnel to identify and document all current business processes and then see if each process is currently automated via information technology—or could be in the future.
They can reach third party logistics companies or contract manufacturers for growth without significant internal investment.
Often, an SME can moderate the operational and financial risks associated by expanding its operations by implementing an effective outsourcing or contract manufacturing and logistics solution. Third-party logistics companies and contract manufacturers who do business in geographies around the world come handy during this time. Plus, there are sourcing services which can help SMEs find potential suppliers in unfamiliar geographies. Finally, SMEs due to their smaller set up create an operating environment where easier and greater access to senior management is possible.
As a result, strategic changes can be enacted faster in SMEs than in large businesses. SMEs just have to use this flexibility to their advantage.SMEs can reduce cost and increase operating efficiency by fully leveraging supply chain concepts.