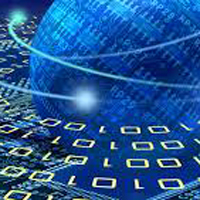 When the Internet boom started in 2000s, enterprises were forced to have an online presence, that is, to have a registered ".com" Internet domain name. Today, there are more than 270 million, or 27 crore registered Internet domain names. This means amount of data is humungous, hiding away a treasure of useful information under its garb. While some of the large enterprises have adopted Big Data technologies and are experiencing a positive change in their business models, even smaller organisations need to follow suit. 
There has been much discussion on Big Data technologies and numerous tools relating to them being used these days. Big Data makes use of existing corporate datasets, and new ways of analysing business information. A database is useful to us when we can extract value from it, and Big Data enables us to add value through Internet as a medium.
There was a time when supercomputing was restricted only at the Top500.org level. Big Data allows your enterprise desktops to work in such a way that they may be brought into effective use by careful planning. If there are about 20 desktops lying unutilised in your enterprise, then you can expect to build an intelligent platform from these computing resources.
The success of Big Data projects largely depend on how many people get affected from them and the amount of intelligence we put into it. We may think in terms of traditional enterprise projects where a few servers and storage are put into the hardware stack and a set of software services are built to establish a complete solution.
In a Big Data solution, the differentiating factor is: a distributed and parallel processing framework in real time environment. Upgrading servers and storage as required by traditional enterprise projects is a challenging situation for a CIO or the IT manager. Further modifications and downtime in traditional projects cause headaches and trouble to people working on such projects and even to end users accessing those services.
Big Data projects are a step ahead of Business Intelligence and also have Write once, Read Many concept. 
With Big Data solutions available for SMEs, there is tremendous opportunity for businesses to learn more about how to improve their operations, to know what products and services to launch and to better understand their customers and competitors.
SMEs can benefit from Big Data using the approach given as follows:
•
Looking at differentiated product lines and services offered
•
Change the way advertising was done by adopting online marketing techniques
•
Enable your sales teams to learn from daily trends and sell through them
•
Find out what happens after the sale, through customer comments, feedback etc.
SMEs can initially avail almost-free Big Data platforms offered by cloud providers like Google, Amazon, Oracle and EMC.
How SMEs can Begin?
When everyone is talking about Big Data, let us see where SMEs may like to begin. Data centre infrastructure is the predominant requirement for Big Data solutions. Like many other projects established on IT infrastructure, Big Data solutions will be no different, with an exception that we can remove SAN storage as the required component.
In traditional projects, IT vendors like HP, IBM and Oracle have tried their best to reach the 100 per cent uptime availability for software services and enterprise storage has by far been the component responsible for providing 100 per cent uptime for servers. The storage component can be removed from Big Data solutions and we may only need storage, SAN, iSCSI, FCoE, and NAS to provide scalability to the new set of solutions.
When Hadoop and related software is planned and incorporated for Big Data solution, developers and administrators are required to build and maintain the solution. However, during the planning phase, Data Scientists, and Data Analysts are required, who play an even more important role for the new solution. A Data Scientist is essentially one who understands an organisation's working model, defines the dimensions for data analysis, and puts forth mathematical and statistical frameworks that are brought in use along with project implementation.
There is a likelihood that a Big Data solution consists of HADOOP stack, incorporating Apache HADOOP and related software, however, several other Internet technologies can be included in the solution, for example, Google+, Maps API, Android Platform, Language Translation and Youtube. APIs are also available from service providers like Facebook, Amazon, and enterprises that have the Internet-based models provide connectors for their web services. Following is a figure elaborating Traditional vs. Big Data Analytic solutions. 
The author of this article is Rohit Aggarwal, CEO, Koenig Solutions Ltd.