Make life simpler
Organise your functioning to be efficient
Tags: Organise your functioning to be efficient
BY Entrepreneur | Mar 08, 2010 comments ( 2 ) |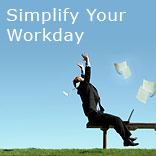 Entrepreneurship is demanding. The everyday hassles can occupy your time to an extent that you are left with little or no time to strategize for the growth of your business. A little bit of organising can help you sort out hassles leaving you with more time to give to your company's growth.
How about simplifying things a little? Here are some fronts on which you can organise yourself better and make your life simpler:
Technology – Starting from the Internet to your mobile phone, technology is there to make your life easier, use it to your maximum benefit.
Use the cloud – Use the Internet to your maximum advantage. By doing so you can make your life simpler. You can access your data from everywhere and hence work from anywhere.
Reminders – Set reminders. Rather than having a hundred things in your head, let your gadgets remind you of the work that needs to be done.
Management – Day-to-day management of employees, clients and processes is one of the toughest aspects of entrepreneurship. You need to change certain things in order to make life simpler and manage better. Here's what to simplify:
Outsource – In order to grow, you need to give a part of your load to others. Outsource tasks like content generation, logo designing etc. When you do this you have more time to focus on your business.
Stay on schedule – Creating a schedule is important. It generates seriousness in your employees as well as keeps you on track.
Hold meetings – Employee meetings are a must, especially when it comes to co-coordinating between departments. It helps in brainstorming for better ideas as well as saves time.
Hire an HR person – Stop spending time on payrolls and administrative functions. Get an HR person to take care of your employees. It's like hiring a gardener for your lawn.
Personal – It is very easy to forget yourself when you are at work. But that does not help you in the long run. Even you need a break, a weekend off from work, sometime with friends and family.
Pamper yourself – Too much of work might reduce your efficiency. Once in a while it is necessary to pamper yourself. Of course that pampering should be well deserved.
Turn off – At least some part of the day or sometime in a week you should turn your laptop and phone off. This will give you the necessary break and refresh you for better working.
Please add your comment
Nilesh sangtani
June 23, 2010 at 12:15 am
The best article i've ever read, wow yaar, i needed this..... cloud is the best, i've been using it rarely, but i'll use it frequently now.... and i love managing my work and life with gadgets.... Cell phone, Pc, laptop, everything..... i am bad at taking time off, i have to start doing it, and also pampering my self
Reply |
jignesh mehta
March 24, 2010 at 2:36 am
give more details
Reply |