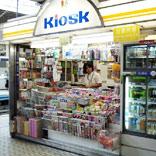 By virtue of being one of the booming sectors in the country with an industry size of USD 353 billion (according to India Brand Equity Foundation), the retail sector offers immense potential to entrepreneurs.
With the entry of corporate, changing lifestyle and consumer behaviour, increasing influence of western culture and rising income, the Indian retail industry is no longer an unorganised sector. While the growth of the sector can be clearly seen in the larger cities rural market is projected to dominate the retail industry landscape in India by 2012 with total market share of above 50 per cent.
Hurdle for a small player
A major problem that a small player faces while making an entry into the retail space is the initial cost. Infrastructure is extremely important and calls for larger investment. There is also a sort of glamour associated with the sector. Both of them together raise the initial capital that an entrepreneur requires to put in.
Kiosk can be the solution
One way of cutting cost when one plans to enter the retail sector can be kiosk. Mr R Manoj Kumar, CEO, Indian Institute of Kiosk Management (IIKM) says, "High real estate cost is one reason behind huge setting-up cost required in the retail sector. It is one of the major hindrances that prevent entrepreneurs with small capacities to step into this industry. A popular solution for overcoming this hurdle is kiosk." You can offer your product or service to the consumers using kiosks instead of buying, renting or leasing space to set up big stores.
What are Kiosks?
Kiosks are a popular form of small format retail. They are small shops set up at convenient locations to satisfy customer requirement. Their area dimension generally ranges from 25 sq ft to 40 sq ft.
"Aspiring entrepreneurs with lesser seed capital are adopting this form of retailing," says Mr Kumar. A popular trend among entrepreneurs today is to buy a couple of kiosks and put it at various places across the city. You must have come across kiosks selling dimsums. They hire staff to manage these kiosks. This gives them visibility and at the same time reduces their initial investment.
What can kiosks sell?
Since they are small shops they mostly sell items which do not need a lot of space to be put on display. Food, perfumes, flowers are the most popular items, which are sold though kiosks. Another important purpose that a kiosk can serve is that of a booking counter. While companies like Ferns and Petals use kiosks to sell flowers, Burgerman sells burgers and Life Insurance Corporation (LIC) uses kiosks to enable customers to check status of premiums by keying in the policy number. In fact, ATMs are also a form of kiosk that have brought, to the financial sector, an opportunity to cut down the cost.
Advantages
The first and the most obvious advantage of a kiosk is that it brings down the initial investment tremendously by cutting the real estate cost.
Another advantage is that it reduces the number of staff members one needs to hire in order to manage the business. It requires a maximum of two to three people to manage a kiosk.
You can set up more than one kiosk across the city (this is not possible in case of stores due to the high cost involved). This will give you visibility and will in turn help the business.
Kiosks cut down other miscellaneous costs like electricity bills. All complexities of managing a big store are reduced.
Cost
A kiosk can cost you between Rs 5 lakh and Rs 30 lakh. A manufacturer can customise it to suit his/her special needs and pocket.
Managing a kiosk
It might be less expensive to set up a kiosk but it requires a trained staff to manage it.  "Since there are a lesser number of people to manage, each person has more responsibilities. The average task per person increases," says Mr Kumar. Elaborating further about kiosk management he adds there is lesser storage space and in that one needs to maintain hygiene.
One should know how to protect the stored stuff from the weather. There are special ways to do so when it rains. The smaller storage capacity also requires the supply chain to be extremely efficient as the exhausted supply (the supply exhausts really fast) has to be replenished fast. IIKM offers a six-month course on kiosks management.