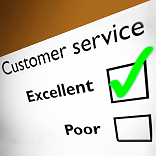 The grocer down the lane is my favourite, for reasons that even I do not know. He may not stock all the brands, sizes and home based utility that the mega mall may offer, but still it is the convenience that he offers to me and many other that make him a favourite in the colony.  To begin with as I ring him, he knows it is me who is calling, I don't have to tell him my address ten times, and reconfirm my identity with him. Second, he will always go out of his route to remind me about things I may need, by suggesting complementary items, reminding me about offers and sales, etc. this only makes him a part of my family, someone who is bothered about my money and guests even more than I am. Third, he goes out of his way to add convenience to my association with him; if I am buying grocery from him, and requests him to collect my laundry from the drycleaner next door or buy some vegetables during an emergency situation; he dies it without a grudge.
What works more than anything else is that he and his team works with an 'at your service attitude'. Their attitude doesn't change with the bill I generate each time. It has been the same since I first interacted with them and with time has only got better. What usually gets a miss as the company grows is the humane nature of the employees and their attitude with the customers. The bigger and better a company becomes the more pseudo it gets in its approach of dealing with its customers. Even you will agree with me that you will rate your local vendors higher than the corporate customer service executives, who consider themselves akin to the company's high profile, and far above in discretionary authority that the consumer/customer possesses.
But as they say it's never too late to change, so you can begin revamping your system by following the four commandments, which will make you essentially open to customers' needs as well as strong to take competition in your stride…
Add delight quotient
This only means that give it to them when they least expect it from you. You don't have to categorically spell out whatever you do for your customers in a manual; it should be between you and your team. Corporate gifts are a big no in this case because they build a recurring expectation. And since even you are at your growing stage you never know whether you'll be able to maintain it all alone or not. Moreover, if you do things forcefully just to keep by the rule book it's pretty evident that you are least interested in your customer's actual well being. Instead bank on the emotional quotient, go and see them off till the door, and if you have kept them waiting too long treat them with some snacks and a comfortable sitting. Unexpected goodie back, calling them on special occasions, are all part of the after sales and there are several agencies that can look after that for you, but treating them like a dear friend from their first visit and helping them know you even better is what makes the customers experience delightful!
Learn from customers
Pleasing the customer through your service endeavours is no rocket science; in fact it is a simple act in which all you have to do is follow your customers. At each interacting, the customer's spells put what he/she wants, and how they want things to be. All you and your team have to do is just follow them. Customer service is not all about handling the backend complains, it about creating and recreating what the customer exactly wants.
Customer centric model
Put it down in words if the intent is not understood by your team; create a work for customers' motto rather than a work for profits one. Most businesses do intrinsically well because they have their intentions clear and also employ accordingly. That is the reason behind sudden success of small ITES companies around the globe, they have a select few clients and work like a project team, dealing with all that is required by the client in the IT domain. This gives them superior result even if they are operating on a smaller business life cycle. This strategy is the biggest tool in the hand of a small to medium business entrepreneur, he can change is focus from client to client. Though this is not advisable in the long run but helps scale up business, channelizes resources and at the same time keeps customers happy.
Happy ending is crucial
Unlike the age old saying, 'first impression is the last impression', the mantra for customer service says, 'it all depends on how you said your goodbyes'. All your competitors are going to be at their best behaviour prior to the closing of the sale. But the actual difference come in the eye of the customer once the billing register closes. The talks, the interest, the inquisitiveness that you hold in the customer shouldn't flicker out immediately. It is important that you business does this paradigm shift very smoothly- from customer service to customer relationship building. The key is to just hang around be and be there for you customer- for a bird in hand is worth two in the bush!