Can Friends Be Good Business Partners?
Before starting a business, first thing that comes to an entrepreneur's mind is "let me ask my friend to join me." Joining hands with your friends and starting a company can be a good idea on the occasion of Friendship Day.
Tags: Friendship Day, Business Partners, Friends entrepreneurs, Umang Srivastava, Rahul Sharma, Rajesh Agarwal, Sumeet Arora, Micromax, Swapnil Chugh, Akshay Bhardwaj
BY Entrepreneur | Aug 03, 2013 comments ( 0 ) |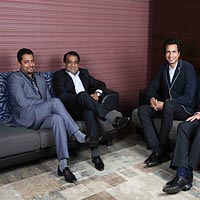 Entrepreneurindia.com shares experiences of some friends who feel great coming together and starting a company.
Four friends – Rahul Sharma, Rajesh Agarwal, Sumeet Arora and Vikas Jain – got together and started the company Micromax in 2000. "Two of us were known from college and other was known to me personally, so we all came up with our skills and passion to start Micromax," says Rahul Sharma, Co-Founder, Micromax.
Partnering With Pals
Some leave colleges and run towards their mission to earn their living but some friends think of starting a company sharing their skills with each other. They become successful in their life just because of each other's efforts.
Two friends from Delhi college of Engineering left their jobs and united to start a company. Umang Srivastava, Joint Managing Director, Casa Brands India, says "Me and my friend Neeraj Mittal became friends at Delhi college of Engineering. I was a sales student while he was a purchase department's student. Later, when I was working with Aristos Group and Neeraj was working with Ikea Company, we decided to start a company and use our skills together."
After completing their studies, three friends from IIM-Lucknow decided to start a company. Swapnil Chugh, Akshay Bhardwaj and Manish Sachdev decided to start a small company and within four years they made a good growth in the industry.
Swapnil Chugh, Founder, Serene Woods, says, "I had an idea to promote authors and photographers that want to give something extraordinary to this world. My friend too liked my idea and we joined together with the capital of around Rs 2 lakh and decided to start the business."
Sharing Complementary Skills
Nobody is perfect in operating each department of the firm. Sharing complimentary skills with each other is the best practice that can make a business successful.
"I would not be able to start this business alone. Sharing our skills with each other had made this dream successful. I was good in sales and Neeraj was good in purchase, sharing each other skills and dividing responsibilities have helped us in the business," says Umang.
When several ideas get together, it makes a business successful. "I was good in creativity, Akshay was good in strategy making, and Manish was good in operations so we decided to divide roles in company," says Swapnil.
Advantages of Friendship-cum-Entrepreneurship
Knowing the person from a long period can be the best advantage for an entrepreneur. Swapnil says, "Partnering with friends is good for business as we know about the capabilities of the partners, their good factors, their bad factors and their knowledge."
Solving Conflicts
Conflicts do happen in business. "Conflicts do happen, but the best way to solve out the conflicts between each other is that we should review about the decision to be made. Everyone should keep their view in front of each other and later the concerned person to the decision to take a conclusion keeping in mind other reviews," adds Swapnil.
Correcting each other in the business and do not interfering in the concerned department would also try to reduce the conflicts. "I do not interfere in his decision so the chances of conflicts reduced. It is his responsibility to take a correct decision in the business."
Having faith on your friends and deciding to start a business along with him can prove to be perfect decision for you. So join hands with your friends and move together towards your goal this Friendship Day.
Best Buddies Who Became Successful Globally:
Google founded by Larry Page and and his friend Sergey Brin
Facebook founded by Mark Zuckerberg with his friend Eduardo Saverin