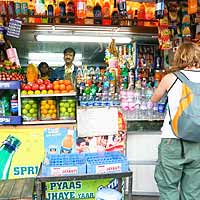 The number of online shoppers has been doubled to 20 million in 2013 as compared to 8 million in 2012. India's e-commerce industry is growing at the rate of 15 per cent whereas India's retail giants Snapdeal and Flipkart are still fighting for supremacy in India's emerging e-commerce industry.
 The growing significance of e-commerce industry in India allows small businesses to get the exposure like that of big retail giants. Today, small businesses represent a new age in "e-commerce entrepreneurship" and big retailers are playing the role of enablers for small retailers empowering them to touch a new high in e-commerce industry. The government along with small trade associations has introduced 'e-Vyapar' for SMEs – a platform to help small traders trade online. Below are some of the tips for small retailers to attain the next level of business:
1. Go Digital
With the significant usage of tablets among customers, the whole world has become a digital village. Therefore, increasing usage of technology among small retailers can accelerate their performance, helps them drive sales and strengthen relationship with customers. For example, customers prior to buy something from an offline store do lots of research by visiting and analysing different sites. So going digital can influence more and more customers.
2. Analyse Customers Behaviour
The methodical study of consumer behaviour enables retailers make effective marketing, media and communication strategies. It is very crucial to analyse the psychology of consumers like what kind of products they purchase, how they consider, visualise and differentiate between different retailers. All these together help retailers create a strategic business model and initiate effective marketing campaigns.  
3. Set Customers' Purchase Criteria
Before buying any product, consumers do heaps of research on product specifications, compare the features of same product of different brands and then review the prices of the products. The better way for retailers to win more and more customers is to constantly display the content on the website that the customers demand during their purchase journey. So, it is very much crucial for a retailer to be familiar about how a customer will buy particular products in different times. All these key aspects allow retailers to set proper consumers' purchase criteria.
4. Engage Customers
Modifying the products and services according to the needs and preferences of the consumers, improving the quality of customers' services, paying attention to customers' interface activities can lead a retailer to strategically engage the consumers. The retail brand should set up a benchmark and then analyze the way customers proceed. For example, in Cocacola brand campaign, the company seems to innovate everyday in order to connect to the customers.
5. Leverage on Social Networking Site
As India is the second largest Facebook community in the world, so to be on Facebook will be an added benefit for retailers in terms of reaching customers aggressively. Social Networking Media is considered as the one of the powerful tools for retailers to effectively drive sales and build customer's loyalty. Through social media sites, one can posts their photos, updates about various products and latest information about the company. It allows retailers to maximise the popularity of their brand among consumers, discover the target audience, interact with customers and listen to their specific requirements, so they can deliver enhanced customer experience.
6. Reposition the Brand
Repositioning brand involves some of the key activities that encompass analysing customers experience, creating a new marketing strategy, designing a new logo, enhancing customer loyalty programmes and updating the brand identity.  Repositioning of the brand is considered as one of the key tools to create a new face in the market, it is more or less an innovative approach to lure customers.