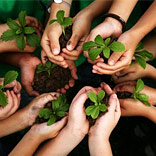 Going green is in vogue these days! A survey conducted by Ernst and young recently showed that companies worldwide are likely to spend 70 per cent more to fight the adverse effects of climate change by 2012.
According to the survey, which had respondents from 16 countries including India, China, the US and the UK, despite regulatory uncertainty on the climate change, companies want to take action because they perceive it as a business issue and an opportunity to generate new wealth. The trend has given birth to new products and services and savings through enhanced efficiency.
The opportunity for both, existing organisations going green and new organisations coming in to take up the responsibility of assisting people in going green are immense.
Going green does not require huge investment. Small business can be just as competitive in this race as big ones. In fact, it is easier for small organisations like home-based offices or small manufacturing companies, to go green rather than the big corporate houses. Start small. Here are some tips to go green without burning a hole in your pocket:
Go for energy efficient products for your office like energy efficient bulbs--- CFL (compact fluorescent lamp). These products do not cost much.
Reduce the consumption of paper. Use more of soft copies for reports and documents rather than print-outs. Send more emails rather than hard copies. If there are printed pages, which do not have to be used for documentation their backside can be re-used.
In the western countries the trends of letting employees work from home for a day or two in a week has picked up fast. This reduces the pressure on the office infrastructure and also keeps employees happy.
Many companies like Dell and HP have initiated recycling e-waste; they take back used computers and their parts when you buy new hardware.
You can use organic and eco-friendly raw materials for manufacturing. If you are constructing new buildings, try making them environment-friendly.
The most important thing is to educate yourself about going green. Small things like turning your laptop off while not in use can add to your effort. Once you educate yourself, you can also educate your employees.