DICCI: Strenghtening the weaker section
Inspired by Richard Nixon's Black Capitalism initiative perhaps, which supported entrepreneurship among Blacks, the Pune-based Dalit Indian Chamber of Commerce and Industry (DICCI) is trying to do the same for Dalits
Tags: DICCI
BY Entrepreneur | Jun 08, 2011 comments ( 0 ) |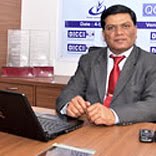 DICCI is doing a good job by way of advancing the growth of the weaker section of the society.
Plan
There are many ways in which DICCI is working toward empowering the Dalit entrepreneurs.
By way of garnering government support to pass bills and regulations in this regard
CII is already working with them to network with the Dalit entrepreneurs
They are forming the skill development workshops and modules to help the Dalit youth wishing to make a transition from being job seekers to being job givers
Government has also requested the main stream Industry to empower the Dalit entrepreneur and we are getting a lot of support from Industries like the Tatas, Forbes Marshall, Thermax and others
DICCI believes that inclusive growth cannot be possible without including the excluded sections of society.
Having launched the Pune Chapter and in Western Maharashtra - the Sangli Chapter, they have in the last weekend launched the Mumbai Chapter. They are planning to quickly launch in the near future over 50 chapters across India. They also have international region heads in UAE, Australia and Japan and other areas are coming up. They have over 1000 members from across India

Support system
Apart from companies like the Tatas, Thermax, Forbes Marshall and a few more, they have still to receive support from more and more main stream industries in India. For this they have planned several programs in the near future. One of which is the second DEEP EXPO trade fair in Mumbai at the Bandra Kurla Grounds which will expose the expertise and talent of the Dalit entrepreneur and his products and services to the world and give him a better chance to break through the caste-barrier.

Giving an edge to Dalits
DICCI is one of efficient and effective ways to do so in the modern world. DICCI is showing the path to every Dalit member and is already receiving overwhelming appreciation and gratitude for this movement, says Milind Kamble, Chairman, DICCI.