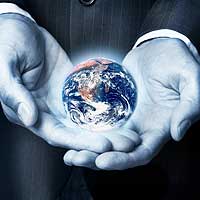 Achieving the right relationship between a company's brand and its philanthropic efforts is a delicate balancing act. But it's worth the effort. CSR in India has traditionally been seen as a philanthropic activity, but nowadays, organisations view it as a way of doing business. They know that CSR is inextricably linked to their reputations and their brand identities as it creates a mark in the minds of the target consumers. It not only caters to the brand awareness among the consumers but also leads to a positive brand image in the minds of the potential consumers for long-term.
The practice of CSR in India is now gradually moving from institutional building to community development through various projects. Also, with global influences and communities becoming more active, CSR is getting more strategic in nature and it is getting linked with business.
The Companies Act, 2013 has introduced the idea of CSR to the forefront and it aims to promote greater transparency and disclosure. Now companies have to comply with the requirement of spending 2% of their profits on CSR projects. This move has put India in league with global countries which follow robust CSR policies.
The new CSR policy could be seen both as a challenge and an opportunity. This could be seen both as an opportunity and a challenge. It could be challenging because there is a high risk of money being misspent and stolen. Clearly, the businesses funding NGOs will be of immense help, but India has nearly three million NGOs, of which many are fraudulent and even genuine NGOs do not have the capacity to absorb substantial funds. Also, majority of companies do not have much clue about how to put their money to good use. They often confuse CSR with charity and end up practicing 'chequebook philanthropy' — which is simply writing cheques for random requests without any real strategy.
How to Approach CSR Sensibly?
Companies, whether small or big, should approach CSR sensibly to ensure long-term sustainability of business. As the business environment gets increasingly complex and stakeholders become vocal about their expectations, good CSR practices can only bring in greater benefits.
First, it's important for companies to realise that CSR is not just about compliance with the New Companies Act, it is rather a strategic decision. If executed well, CSR contributes to building corporate reputation and trust. CSR is a great way of retaining and engaging employees. Also, there is a growing desire among educated people to give back to society, and a company's social initiatives are an excellent outlet for this desire.
Take up Social Challenges
Companies should work towards finding a feasible solution of tough social challenges. Doing so will help them develop a reputation for doing something different for the well-being of society. This will in turn help attract better talent. Finally, CSR projects can be an important source of innovation.
For instance – Microsoft's work in digital literacy has not only helped nearly 40 million children, it has also inspired product innovations such as Multipoint Server that enables many children to concurrently share a single PC. Similarly, Hindustan Unilever's work in rural markets has resulted in the Shaktiamma rural distribution model that today drives 10% or more of the company's revenues.
Choose Right Leader
It is critical to have the right leadership for your CSR work. The new Act specifies that a company must set up a board committee to oversee CSR with at least one independent director on it. This is mandatory, but insufficient. You also need to appoint a credible leader who will help shape your CSR strategy, evangelise this to employees, build external partnerships and communicate the impact being created.
Pick Your Area of Work
Besides choosing a right leader, it is equally important to pick the areas of focus for your CSR work. Investing in vocational training or literacy in communities around the company's facilities is an obvious area. Picking areas adjacent to your core business has great merit because these have the greatest potential to sustain. Given the opportunity, companies can also imaginatively create a portfolio of areas where you want to have impact.
Focus on Impact Investing
Companies must increase their awareness and become active while undertaking any CSR project. They should graduate from chequebook philanthropy to impact investing because spending 2% of the profits on CSR is a big deal and the same needs to be approached with the rigour of a venture capitalist. Companies should have a disciplined approach with clear criteria while making grants.
Changing the Mindset
Instead of seeing CSR as an onerous imposition and a 2 per cent tax, companies should view it as a 2 per cent investment in building corporate reputation, employee engagement and innovation. Real CSR not only renews the implicit licence to operate given by society to your company. It helps create a functioning society that we can all live in.
The writer is the former chairman of Microsoft India. Currently, he is the co-founder & chairman of Social Venture Partners India.