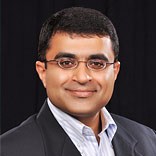 Shambhavi Anand (SA): What are the business benefits of an ERP solution for a small and medium business?
Thomas Abraham (TA): SMEs would need to migrate from an accounting package to an ERP as they scale up their business. ERP is very important to streamline the business processes in an organization. It takes care of the accounting, operations and inventory requirements of a growing business. Some of the benefits would be,
-          Improvement in controls
-          Quicker transaction processing
-          Automation of internal processes and therefore reduced paperwork
-          Efficiency in accounting and operations
-          Easy information access for all
-          Quality reporting
-          Improved collaboration between departments
(SA): At what stage should an enterprise go for an ERP solution?
(TA): ERP is available as a low cost option today. For instance Sage Accpac ERP Professional edition starts at Rs 1 lakh.  If your focus is improvement of internal controls, transaction processing, better inventory management, multi location presence and good reporting, then you should certainly look at a robust ERP product
(SA): What is a hosted ERP solution? What are its advantages?
(TA): Hosted ERP entails accessing the system from the internet while the application is at a Data center which is not owned by you.
The advantages of hosted is that you can move away from capital expenditure to operating expenditure to run the ERP as you have to pay a per user cost each month. Also there is no need to have the infrastructure in-house in terms of hardware and resources to manage the maintenance of the infrastructure.
(SA): What is the difference between the hosted model in comparison to traditional ERP models? Is it costlier?
(TA): The differences lie in the fact that there is no ownership of the software and related infrastructure in hosted model. However you need to have adequate internet bandwidth to access and use the system effectively. Hosted model can work well only if the monthly cost per user is made attractive. It can also become more expensive if the user group is large.
ERP on- premise has many advantages,
-          Changes can be made easily of the customer
-          Access speeds are very high as it can be accessed on the internal network and you do not need to depend on internet speed
-          You own the software and so can determine the timing for upgrade to new releases
-          It is much easier to customize the software 
(SA): How popular is ERP among Indian SMEs?
(TA): The SME market for ERP is growing quite rapidly. With the economic recovery market opportunities for companies has improved and many of them are now on an aggressive growth path. For managing that growth efficiently they need to implement systems to streamline their operations. We are seeing rapid adoption in this segment.
(SA): What are the products that you offer for SMEs?
(TA): We have a range of product in ERP, CRM and Payroll for the SME segment. These include,
-          Sage Accpac ERP
-          SageCRM
-          SalesLogix
-          ACT!
-          Sage Pocket Payroll
(SA): What is the USP of your products?
(TA): Some of the advantages of Sage products include,
-          We address multiple segments given the range of products, versions and pricing
-          We can deploy most of our products on the network as well on the web
-          Our products are easy to deploy and configure and use. Therefore end user adoption is very high
-          We have vertical solutions for Real Estate, Media, Travel, Brokerages, Stock Exchanges, Hospitals and many more
-          Sage has an integrated solution with ERP,CRM and Payroll and would be the only vendor in the business applications space with this capability
-          Sage has a strong partner network with good functional and consulting skills. This is very important to build up customer confidence
(SA): Any new solution on cards?
(TA): Sage will be launching more vertical solutions in collaboration with our partners. We have recently launched the Sage Accpac ERP Professional Edition at Rs 1 lakh to penetrate the SME segment.