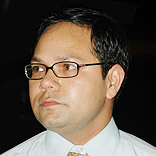 Wipro Ltd, India's second biggest and one of the world's largest IT services company has always been at the forefront in supporting the development of Small and Medium Businesses. Wipro Business Technology Services helps empower enterprises with business process innovation, enterprise agility, collaboration across the ecosystem and utilization of information as a strategic asset. Ramachandra Yadavilli, Marketing Head of Wipro Infotech explains what makes the SME sector interesting and what's their contribution.
Bhuvnesh Talwar (BT): What is your definition of Small and Medium Businesses?
Ramchandra Yadavilli (RY): The definition varies from region to region across the globe and has to be interpreted in the right context. Broadly the small and medium business in India is characterized by annual revenues between Rs.100 to Rs.500 Crores and having employee strength in the range of 250-1000 employees. There is no industry thumb rule or benchmark and these figures do vary for various industry verticals and companies have their own interpretations as well.
BT: What makes the Indian SME space interesting to you?
RY: The SME as a segment is a significant contributor to the GDP and the overall economy in India but IT enablement in this space is very limited and that's what makes it interesting for us. We find a huge opportunity for IT powering this segment's growth.
BT: What are the major challenges or roadblocks you have been facing in the SME space?
RY: The single biggest challenge is to educate the segment on the power of IT and the kind of efficiencies and productivity improvements it can provide if deployed well. Quite a few SMEs are proprietor/family owned concerns that are used to doing business in a certain manner and it requires a mindset shift. Further, SMEs tend to look for short term, cost effective solutions to address immediate needs and focus on immediate ROI which sometimes becomes a challenge.
However there is a slow transformation that we are seeing in terms of the intent to leverage IT.
BT: What are the different technology solutions and products offered by you for SMEs?
RY: All our offerings for the SME segment are aimed at automation of the business processes there by enhancing business productivity, and they also enable better collaboration with the larger ecosystem of vendors, partners etc. 
We have recently launched our cloud computing service which is ideally suited for medium businesses. The pay per use model offers tremendous operational flexibility, aligns the cost of IT and business revenues and offers per transaction, output based pricing which frees up the capital for SMEs and makes business more predictable.
BT: In what ways do you manage to generate affordable quality products for SMEs?
RY: There is always a tradeoff between features, functionality and price and performance in any area of IT. Purely from a SME standpoint we try and use our industry expertise and templates to reduce deployment cycle times thereby giving cost advantages. Our remote services also ensure that service delivery costs are optimized. Our edge computing proposition offers great flexibility to SMEs to optimize their technology investments.
BT: Are Indian SMEs adopting technology aggressively? What are the main deterrents for them?
RY: In the recent past SMEs have been adopting technology aggressively. However there is still huge scope for a mindset shift where IT is seen more as a strategic business tool and an input and not as a cost. Different Industries are at various maturity levels in terms of IT adoption. We see a drive for IT enablement in co-operative banking, micro finance institutions, healthcare, manufacturing, ancillary industry and even among small retailers. So most do realize the potential and are embracing technology at their own pace.
BT: Which business verticals are your prime targets?
RY: From the SME perspective it's across industry verticals, however our major targets are BFSI, retail, education, healthcare and manufacturing.