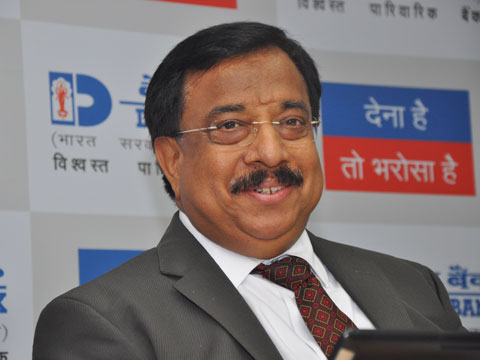 With an aim to encourage entrepreneurs, Dena Bank is giving a thrust to the growth of SMEs. In an exclusive chat with Entrepreneur, Ashwani Kumar, Chairman and Managing Director, Dena Bank, talks about his bank's various loan schemes to promote entrepreneurs and unveils ways to promote SMEs.
How are you promoting 'Make in India' campaign among new age entrepreneurs?
Dena Bank became one of the first banks in the country to organise the 'Evening with Entrepreneurs' series to promote the prime minister initiated 'Make in India' campaign. Dena Bank supported the spirit of business and enterprise in India as it welcomed young and bright entrepreneurs to come forward with their bankable and innovative business propositions at various events held in all prominent cities of India. The bank is organising regular interaction with aspiring entrepreneurs to encourage them in setting up business as such initiatives will enhance the creation of jobs. Bank's various schemes and recent developments with regard to the 'Make in India' will help young entrepreneurs to set up their businesses.
What are Dena Bank's business propositions for young entrepreneurs?
Dena Bank's smallB branch is specified for new entrepreneurs and start-ups. It offers facilities such as term loan/cash credit and non-fund based facilities – Letter of Credit and Bank Guarantee. The precondition for finance is that the project has to be funded by an angel investor/venture capital fund in first stage/subsequent stages.
The margin comprises a minimum 30 per cent of project cost that may be brought in by angel investor/venture capital fund. Interest Rate: 12.50 per cent fixed (no rating is compulsory). Upfront Fee (1.00 per cent) NIL for the first year. Keeping in view the innovative start-up nature of the projects, collateral security is as per coverage under CGTMSE. Personal guarantee of promoter is compulsory. The bank is committed to dispose of the proposals of MSME as per the time line prescribed by BCSBI. The bank is nodal agency for TUF and CLCSS schemes which provide subsidy to MSMEs for technological upgradation. The bank is having tie up with SIDBI, NSIC and various vehicle manufacturing companies for financing to the MSME sector. A term loan is sanctioned by NSIC/SIDBI and working capital by banks.
What is the target SME lending for 2015? How much was the SME lending in the last fiscal?
The total advances of the bank increased to Rs 78,622 crore as on 31 March 2014 from Rs 66,457 crore as on 31 March 2013 showing a growth of 18.31 per cent. Total advances of the bank increased to Rs 75,356 crore as on 31 December 2014 from Rs 69,895 crore as on 31 December 2013 showing a growth of 7.81 per cent. MSME advances of the bank stood at Rs 13,787 crore as on 31 December 2014 as against Rs 11,902 crore as on 31 December 2013, showing growth of 15.84 per cent.
Dena Bank is targeting 20 per cent year-on-year growth in credit to micro and small enterprises. We are striving to ensure that 60 per cent of total MSE credit should go to micro enterprises. Ten per cent annual growth in the number of micro enterprises accounts.
Which are the other prominent schemes of the bank with regards to entrepreneurs?
The bank has offered concessional rate of interest for SME new borrowers. We also offer the following products for MSMEs: cotton ginning and pressing units; rice and dal mills; onion/garlic dehydration processing units; channel financing (supplier and dealer); and wind mill projects (non-conventional energy). There are some region-specific and cluster-based schemes in our bank: ceramic, casting and forging, diesel engines; electric motors, machine tools, diamond processing and wall clocks; Scheme for Textile units of Bhilwara; Financing Metered Taxis in Mumbai; and cluster units as identified by UNIDO.
What is the present number of branches of Dena Bank across India?
As of January 2015, the number of branches is 1,670 through 27 zonal offices; 646 rural branches including 78 satellite branches; 338 semi-urban branches; 316 urban branches; and 370 metro branches. Dena Bank targets to open 150 new branches during FY 2014-15, and continues its focus on retail & MSME advances, strengthening Loan Processing Centres.