SME Calling
Airtel being one of the market leaders in the telecom sector is now looking at the SME space, which it believes has a huge untapped potential. Mr. Deepak Khanna, SMB Head, Airtel, tells Franchise India Media what makes SME so attractive and how Airtel wil
Tags: Mr. Deepak Khanna, CEO, Airtel Business Services, Bharti Airtel
BY Taslima Khan | March 10, 2010 | COMMENTS ( 1 ) |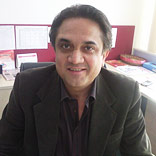 Mr. Deepak Khanna
CEO, Airtel Business Services Bharti Airtel
Airtel being one of the market leaders in the telecom sector is now looking at the SME space, which it believes has a huge untapped potential. Mr. Deepak Khanna, SMB Head, Airtel, tells Franchise India Media what makes SME so attractive and how Airtel will cater to its needs.
Taslima Khan: Talking about Airtel's interest in the SME space, what exactly prompted you to go for it?
Mr. Deepak Khanna: The SMB market within India is very huge and our belief is that it is one such opportunity which needs to be explored. Our estimate is that there are five to six million SMEs in the country and so there is a very large requirement of an integrated ICT play in the market. It will cover complete voice and data connectivity along with the application portfolio. At Airtel we believe that we have an integrated tempo considering our relationships with our customers and other large brands plus the ability to bring in an integrated product portfolio, a one stop shop. Keeping in view the large market opportunity and Airtel is best poised as telecom giant so we want to leverage this opportunity.
TK: Which is your best product for catering the SME space?
DK: We are still in the process of building this business. We have a sizable leadership as far as voice part is concerned. Over the last 8-10 months, we have started working on the data part and we have seen satisfactory results. The third part being the IT part or the application part which is the new entry for us. So, as far as voice is concerned we clearly have a superior leadership, with regards to data we have begun to take a dominant position but still not the leader but my belief is that we will be dominant in next 10 months.
TK: How does the New Year appear to you?
DK: Excellent. I am glad that overall economy is coming back in shape and business will be much more predictable.
TK: How has your experience been with the SME space/ clients?
DK: Well SMEs account to 40 per cent of industrial output, if there is entrepreneurship in India, it's fueled by SMEs. If any company wants to scale business the market segment is most important. I don't think an SME company is fragmented, they have large aspirations and our interactions with SME clients have been satisfactory. So it is not at all difficult to work with them.
TK: Do you have any special strategies to reach SME clients?
DK: You need to dissect this market. Clearly there is a large-medium enterprise market which is segmented and we know their needs. As we go deeper into the market, and explore the 5 million opportunities that exist, there we see a fragmented market. I think that's where Airtel and its partners come. We are well versed with the market and have a reasonable idea. We have the strength to get our telecom products, voice & data product and partner with big IT companies to help the SME space. Our entire approach is a 'Partnership-Approach' to help our SME customer.
TK: Any specific reasons to start the SME business from the East?
DK: Well when you start, you make small beginnings but it was more parallel as we started from Kolkata, then simultaneously in Delhi, Bangalore Chennai.
TK: What's your vision for the coming five-years?
DK: I think Airtel is one of the most powerful brands in the country today with established leadership as far as telecom is concerned so it should not take us much time to become a leader in the voice business in the SME sector. The SME is a customer whose requirements are scaling up very fast especially in the IT segment/ application. Our ability to partner with big IT companies and application based services is going to determine our leadership. It will serve as a case-study for us to produce a complete portfolio.
TK: What are the major challenges with SME space?
DK: An SMB customer's biggest priority is to lower down its cost of operation to lowest possible level. It aspires to become a big company but lacks in human and capital resources. The biggest challenge will be how Airtel will position itself to bring the costs down and be the one-stop solution which takes care of its needs. We want to have their IT manager on the cloud as cloud computing is one of our main products.
TK: SMEs have a perception that IT is expensive and can be adopted later. Do you think affordability is an issue?
DK: It's more related to the value which SMB will look for and business surely has to be cost-conscious. It's always prudent to be cost-conscious but companies look for value and if you give that excellent experience then there are no other concerns.
TK: What are your plans for Tier-II & III cities?
DK: At present we cover close to 95 cities which constitute about 70 per cent of the SMB population. Our current focus is to provide value services and as we go along and technology becomes more available we will reach everywhere.
TK: As a service professional, what interests you in the SME space?
DK: For me it's principally growth, I think this is one sector which will fuel Indian economy and entrepreneurship. This sector is growing at a CAGR of 10-30 per cent. Airtel as a company believes in building growth-oriented models and we think it's a perfect synergy.
Please add your comment
prabhat upadhyay
May 23, 2010 at 12:20 am
sir/mam I want franchise in Airtel Bpo
Reply |