A vision for business leaders!
KRD Vision, a visionary company setup by Ketan Dewan aims to provide solutions to corporate. In a conversation with Franchise India he discloses his source of inspiration, objectives and hardships that went into the making of this company.
Tags: Ketan Dewan, KRD Vision, consultation
BY Harmit Singh | February 06, 2010 | COMMENTS ( 0 ) |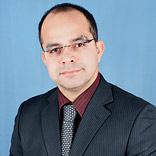 Ketan Dewan
Founder & Managing Director, KRD Vision
KRD Vision, a visionary company setup by Ketan Dewan aims to provide solutions to corporate. In a conversation with Franchise India he discloses his source of inspiration, objectives and hardships that went into the making of this company.
HS: What exactly is KRD Vision?
KD: KRD Vision stands for Knowledge Restructured Dynamics, the model which understands your vision and executes measurable growth Monday morning. We work as the extended decision making arm of business leaders to help them make informed business decisions that impact the top and bottom line growth of their respective companies. KRD Vision was founded in October 2008 and with little over 16 months in business we have some of the leading Pharmaceutical, IT, Education and Retail companies in our portfolio.
KRD Vision has clients across sectors that include: Education, Healthcare, Equipments & Pharmaceuticals, Technology, Recruitment, Search & Training, BFSI, Logistics etc. Target Audience includes Business Leaders, Key Decision Makers, CXOs, Functional Heads within MNCs, SMEs and start-ups, across sectors and industries. The decisions we propose impact all stakeholders of the company including customers.
Our key business differentiator is a unique business solution called the Strategy Audit. This acts as a diagnostic tool to design and help implement the next 90 days strategies for companies across sectors. This makes KRD Vision a very unique company in the world to design and implement the next 90 days strategy. Similarly our core differentiation lies in the ability to design and implement simple yet meaningful change so as to make companies more 'Customer Focused', thereby enhancing their top and bottom line growth.
HS: What inspired you to start the venture?
KD: During my corporate experience in UK, Eastern Europe, China and India; I realised that in companies there are some very good 100-150 ideas deliberated in a year. However, from one annual strategy meet to another only two to four such ideas were implemented. Also business plans exhibit growth only at the end of two years while simple problems get magnified shifting focus from what should be done to what can be done. Also, larger corporate are able to utilise services of big consulting companies and also have the benefit of full scale strategy departments which SMEs do not have. With these thoughts in mind, I started building the concept somewhere in mid-2007 while constructive efforts were initiated from July 2008.
HS: How did you provide your organisation with the initial fund?
KD: I had saved money over the years that amounted to some Rs 12 lakh.
HS: How can a person gain by getting associated with KRD Vision?
KD: Strategy is associated with long term planning, decision making, sometimes even waste of time. But with the features of recession touching the lives of corporate and even individuals, we have specially designed our model to focus on delivering short term results. Companies have little patience to invest time and resources on anything that will deliver in the long term, hence our solutions were received very well. I started with a very unique and the first of its kind business where we assist companies to make the next 90 day strategy and hand hold to implement the same so as to drive business results. We call it the Strategy Audit.
With our unique value proposition, we are in touch with at-least 8-10 CEOs/MD of medium to large sized corporate every week for a one to one interaction of about 30 minutes, which helps us build our business development pipeline. Post that we engage them in a 4 hour workshop followed by a mini-report that presents a 3rd eye view of how their company/function is operating. We have now started charging a nominal fee for the workshop and the mini-report. We call it the Strategy Sampler. It helps us showcase the value that the client can expect from us and that too at only Rs 2000/ analyst hour.
HS: What difficulties did you face as an entrepreneur in your initial days?
KD: Start-ups have their own unique challenges and are less affected by the macro environment. The challenges are internal and are limited by the founder's ability to move pass various operational problems that arise. For us cash was a major road block. Everything, right from scouting for the right talent to facing infrastructural roadblocks had to be sorted. But these were minor issues in light of our gigantic belief that once we reach out to the right people and talk our language, we would win the game. I guess our enthusiasm has helped overcome challenges we faced and helped us build a strong positive culture where ever we go.
HS: What are your future plans?
KD: We would soon be starting Thought Leadership Engagements (knowledge seminars) delivered by experts from across the globe enhancing perception of the Indian manager on various topics of interest. The first of the series will start with a seminar on Pitch Yourself: Spend 8 Hours to know the value of 30 seconds. We are confident of becoming a $M company by 2012. Just to share only 4% of all companies in the US are above that mark. Our future plans include establishing a strong base in Delhi by 2012 followed by opening 5 offices every year in India and 1 office in international locations. By 2018, we aspire to be a $25 M company with a team of over 500 spread across 20 offices in India and 3 internationally in China, Middle-East and Europe.
HS: What advice would you like to give to people who want to become an entrepreneur?
KD: Entrepreneurship is for the brave hearted. Most start ups take maximum time to build the basic principles of their business. There is a huge effort required to deal with the temptation of quitting a plum job and building on the patience reservoirs that start-ups will take time to deliver the results. But entrepreneurs have the strength of passionate ideas, which gives us the natural propensity to defend pessimism. However, what we need to be cognizant of is the ability to filter positive criticism from pessimism.
Tips for entrepreneurs planning to launch new ventures in tough times include:
Arrange for set-up and 6 months costs of running the business. Do not depend on projected sales turns
Understand things that you can and cannot do. Appreciate both. Even start-ups need to drive outsourcing to achieve cost and competency benefits
Hire the people who share your vision and are willing to learn and adapt with the changing environment
Keep your office close to your residence, cut travel costs and gain on minimum 2 hours of travel time
Make sure your idea is not too late to enter
Make the sand box and make it well: Who will pay, Why will he pay, What is the value to him, Who will be your 1st client and Who else is satisfying the same need for the same customer? Bounce off these questions to many people within your network and take the feedback very constructively
Create products and services different from the market, what can be the difference for the customer
It's good to go to the VC/PE post working out the model and market testing it. This allows for a higher valuation and greater confidence
Have Consistency With Challenges
Be disciplined
Constantly innovate to reinvent your leadership style
Follow your Gut