Offering lifestyle to children
Slamming the fact that children have little say in their own living, Aditi Binani and Kulin Parikh, (now the directors of Kinder Homes), embarked on a trade to build children's rooms around various themes and concepts so as to add zing to their otherwise
Tags: Lifestyle for Children, KinderHomes
BY Seema Seth | August 04, 2011 | COMMENTS ( 4 ) |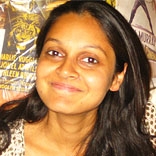 Aditi Binani
Director, KinderHomes
Slamming the fact that children have little say in their own living, Aditi Binani and Kulin Parikh, (now the directors of Kinder Homes), embarked on a trade to build children's rooms around various themes and concepts so as to add zing to their otherwise drab existence. Here, she explains the tricks of the trade and the way ahead for them.
Seema Seth(SS): How did you conceive this idea?
Aditi Binani(AB): The ideology behind the store was to create awareness in parents, to identify and emphasise the need of providing a child with his / her own distinct space. 'KinderHomes' was thus born, to be a comprehensive solution provider for designers and parents, helping them build a child's room around various themes and concepts.
SS: Who are your partners?
AB: My partner in this venture is Kulin Parikh. I completed my graduation from NIFT, New Delhi and went on to do my Associates Degree in Applied Science in Interior Design from Parsons School of Design, New York in 2007. I worked with a leading Interior Design firm in New York and New Delhi and has designed some high end Retail Stores in the capital city. Kulin has done his Masters in Product Designing and Plastics from U.S.A. He has also contributed in product designing at Reliance India. For the last 14 years he has been engaged in Design and Engineering of high end technical lights for the Hospitality Industry, Multiplexes, Landscape Lighting and Electrical Energy Conservation.
SS: How did you fund the venture?
AB: The venture was funded primarily with capital from both partners, and partly by way of a loan.
SS: Tell us about your line of products?
AB: We have complete furniture sets- which provide the basic platform to the room. Wallpaper/ wall art/ decals- is the next step defining the underlying theme and finally accessories such as bedding, accent rugs, lamps, book racks, bean bags, photo frames, photo albums, book ends etc to accentuate and enhance the design concept. Personally chosen and handpicked from various parts of the world, KH is also associated with some renowned international brands.
SS: What is the price range for your products?
AB: The price range really varies from product to product. Since we have such a large variety of products and each product segment again has a large choice / selection, it is very difficult to give a general price range. However, we think that our products offer class and at the same time are reasonably priced.
SS: How many stores you have in total? What are your expansion plans?
AB: We just opened our flagship store in Lado Sarai, New Delhi. We are in the process of understanding our customers' needs and also the market. We intend to launch our second store within the next one year and are keen to expand thereon into other cities and towns of India. We have not decided our franchise policy as yet.
SS: Who are your target consumers?
AB: Our target customers / consumers are expectant mothers and children of all age groups right from infants to teenagers.
SS. What are your marketing and promotional strategies?
AB: Since we are a new store / company, I personally think this is going to take some time to evolve over the next few months. However, we have associated ourselves with different child magazines, lifestyle magazines across the country and hope they will visit our store and feature us, thereby helping us reach our customers. We have also started looking at advertising in various mediums like newspapers, magazines, have started to participate in select exhibitions etc and hope to have a clearer strategy in place soon.
SS: What is the USP of your products?
AB: KH believes in offering a very unique experience by creating 14 odd concept rooms (for newborns to teens) within the store for an ease of visual understanding for both the children and parents. Customisation is also offered keeping in mind the age, likes and hobbies of the child. That apart, clear visual merchandise displays have been designed - for example there is a toy area, a book section, an area for lamps and light selection, etc.
SS: Who are your competitors?
AB: This is a very difficult question to answer. Honestly, we do not see any competition as our store and concepts are very unique for the Indian market. We are revolutionising the whole concept of shopping for a kid's room, as we speak. However, we are sure more companies and brands would follow suit, and this would help in increasing the market size of this industry in India.
Please add your comment
Karm
January 05, 2013 at 7:27 pm
That's a subtle way of thinking about it.
Reply |
vijay kabadi
September 22, 2011 at 8:43 pm
its a great concept and idea.we r planning a kids store in bangalore.request u to suggest a few things about lighting and concepts which go well with kids.regards.
Reply |
ganeshvalmiki
September 13, 2011 at 12:55 am
im pretty impressed with this innovative concept where you find the overal inner and outdevelopment of the child, im sure parents will show more interest to approach you further...
Reply |
Archna Sharma
August 16, 2011 at 5:29 pm
gud idea, If you are interested in Dehrudun Market please get in touch
Reply |