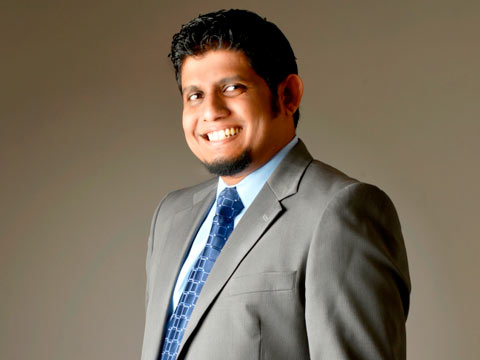 Started from a small hostel dormitory in Bangalore, Alan D'Souza laid the foundation of Vavia technologies on 8th August, 2008. Within a span of 3 years, the company has gained the recognition from various national and international clients in the web world. In an interaction with Entrepreneur India, Alan D'Souza, Founder, Vavia Technologies, shares his entrepreneurial journey, building a significant customer base, use of funds and about Vavia's innovative offerings:
What ignited the spark in you to start Vavia Technologies?
I come from a small town in Mangalore called Kinnigoli. Though this place is about 3 km in radius, it was filled with hustlers and entrepreneurs. It was inspiring to see people work much harder and risk everything to create value, jobs, lifestyle and wealth. There seemed to be a different joy in creating. I was 14 when I decided to venture into the world of entrepreneurship. I started Vavia while I was still in 3rd year engineering at PESIT, Bangalore. I didn't have any work experience, but I believe that the fresh thinking of not having an experience helped me the most.
How did you manage to raise funds and convince investors for your venture?
I was lucky to get mentored by several experienced entrepreneurs. The first advice I received was that entrepreneurs always get investment when they don't need it the most. It was clear that with no degree from fancy institutes and no prior work experience, I had to build a self-sustaining business before I could start making investment in product development. Our organisation went about providing web/mobile development and marketing services. Customers were our main source of funding until recently.
How did you build a significant customer base?
The most important aspect for building a loyal customer base is to impress a customer by punctuality, delivery, quality and professionalism rather than pricing. Customers who have come to you for your great pricing will never remain loyal to you as tomorrow there will be someone else who will manage to provide the same service at a lower cost. Most of our customers hired us to build products to launch B2C, B2B businesses. Delivering the right product quality in the promised time helped us bag maintenance/future development retainers as well.
You have recently launched 'txtbrowser' navigation feature and Social Network App 'Confess', what are the key features of these apps?
txtBrowser is a SMS answer engine. It allows you to get answers to almost any query that you may have over SMS. We have seen great traction in txtBrowser. We are close to answering 500 million queries since the launch of this service in July 2013. We are now present in partnership with Telecom operators in 6 countries in Asia. Whereas, Confess is a social network app that allows users to anonymously communicate their thoughts with friends and people around from the comfort of their android devices. Confess has seen a 90 per cent user return rate and average time spend of 20 minutes every day.
Do you think the idea of internet over SMS services is sustainable in long run?
SMS has been in use since the 80's and still remains to be a popular method of communication. The simplicity of using SMS combined with the powerful answering ability of txtBrowser makes it a really popular way of asking queries. When you search on the internet, most of your queries return web links that further need to be accessed before you can start reading the answer to your query. In txtBrowser, the application reverts directly with the answer and also suggests other interesting topics that you could read.
Confess is a social networking anonymous app. What if the privacy is breached or hacked?
I think that's a concern for any web or mobile product. What if the databases of an e-commerce website got hacked or what if email services got hacked and so on. Confess uses advanced data encryption technologies that ensure maximum protection from unauthorised access.
Access to information without access to Internet! Sounds interesting yet conflicting? I feel in this service, manoeuvring is not possible. What is your view on this?
txtBrowser has been built using advanced natural language processing technology that allows us to understand queries with an accuracy of 88 per cent till date. Our application keeps improving with the queries that we receive. However, sometimes it is difficult to process when queries come in Hinglish, Kanglish and so on. I guess that's the advantage of being in India.
Another product of yours is ChatHunt. It's almost like Confess with a different name. What is the difference between the two?
ChatHunt is an anonymous chat service. It connects you to random people to have anonymous instant communications. Confess is a social network app that posts your message across your networks. ChatHunt allows you to have instant chats without revealing your identity. However, the interaction is limited to only one chat partner at a time. If you find your chat partner interesting, you can then save the chat partner (anonymously again) for future conversations.
Your company plans to expand services to 30 new geographies. Did you sell your stocks to feed the expansion plans?
The capital will primarily be used to expand our offerings to newer geographies. Using the existing Spice Global Network will also help us reach out faster with lesser cost.
In which geographies you are planning to expand?
Primarily, we are targeting the emerging markets. txtBrowser is the only product that focuses on SMS technology. All our other products are focused on smartphones.
You have interesting ways of doing things. What do you think about a) An interesting idea with a revenue model, and b) An interesting idea without any revenue model?
Being an Indian company, we focus on products that can be monetised. However most importantly, we focus on products that can go viral or can achieve market penetration at a very low cost. Hence, all our products are in the consumer tech space are marketed either as a VAS or have a high viral coefficient.