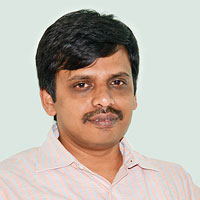 While travel portals, specifically airline and train ticketing, dominate the online space, online bus ticketing is still in a nascent stage in India. Out of the total market of Rs 20,000 crore, only around three per cent is getting booked online. The industry in itself is growing at a scorching pace. Arun Athiappan, Co-Founder and CEO, TicketGoose.com, envisions that more than 50 per cent of the bookings will shift online and expects the space to treble in the next five years.
Tell us about your journey as an entrepreneur.
My entrepreneurial journey started way back in 1993 when I started a small software development company, Abacus Systems, in my native place, Namakkal. I wanted to be an entrepreneur right from my student days. I quit my job just to start Abacus Systems. It got interrupted by the lack of experience, mentorship and ecosystem for such a venture in my native. After that, I took up a job with software multinationals for 12 years.
I, along with two of my friends ­– Karthikeyan Easwaramoorthy and Vasudevan Ramasamy – co-founded ticketgoose.com in August 2007.
The bus ticket booking sector in India is highly fragmented and unorganised. What made you enter into this sector?
The very fact that the industry is highly unorganised presented us an immense opportunity to fulfil a much wanted need.
 In the May of 2007, one of our co founders, Karthikeyan Easwaramoorthy, had come down to India on a vacation. When Karthi tried to come to Chennai from Erode, he had to go from one agent to another ultimately to find out that no ticket was available. After a great difficulty, he managed to get a bus ticket and reached my home next day. If there had been a way to book tickets in advance without, he would not suffer. What was an idle chat suddenly looked like a potent business idea. It got us all very excited and we immediately started discussing the possibility of aggregating bus tickets online. We immediately called up one of our other friends, Vasu Ramasamy, and we decided that this was an industry with a great potential. We made a few calls across known operators and agents. We realised that there was a game-changing opportunity and that we could be the pioneers in bringing this industry online. The best thing about it was that the operators already had a distribution model using a network of agents, and we could seamlessly get into the ecosystem as yet another agent without disrupting the existing setup.
What challenges are you facing while attracting customers to web portals?
Making people know that bus tickets could be booked online and creating awareness about the brand ticketgoose are major challenges for us. But slowly this is changing and more and more customers are now shifting to online for booking bus tickets.
A major portion of bus users are not Internet users and many also do not have a mean to pay online. We are addressing this through our network of 2,000+ agents and cash–on-delivery models
From 2007 to 2012, Ticketgoose.com has come a long way. How much has the online bus ticketing segment evolved in all these years?
Five years ago when we started ticketgoose, it was very difficult to get significant inventory to our portal. Over the years, we have seen a great shift in online booking, mainly in the southern and western part of India. Today, more than 90 per cent of the inventory is available online in the South. We have been one of the driving forces behind this change. Our cloud-based solution Vahana, which we offer to operators in a Software as a service (SaaS) model, is one of the early software that enabled operators to go online seamlessly. Even though a bulk of the tickets is still sold through agents, all these agents are now booking online. Today, it is a top priority for any operator to have the online presence.
How many tour and travel agents do you have tie-ups with? Was it difficult  to convince them?
We have tied up with around 500+ operators across India, individually and through other aggregators. At the start, it was easy to get the seats on quota as agents. But this model did not scale up and the inventory requirement for ticketgoose.com was much higher than what could be procured as quota. We then introduced our cloud-based Vahana software which made available the operators' real-time inventory online. It was a struggle to convince operators to move online, but the shift has now happened.
What prompted you to choose the unique name – Ticketgoose? 
We wanted our name to be related to people who travel often. Our initial gut feel and subsequent talking to many bus travellers showed that people who use this type of travel most were those who have migrated to cities for various reasons. Thus, we decided to have a name that would associate to this migratory behaviour and shortlisted many animals, birds and even fishes that exhibit migratory behaviour. We chose the goose, which apart from migration, exhibited excellent teamwork that made the migration much easier. While the migratory behaviour symbolises our customers, excellent teamwork is one of the basic tenets of Team Ticketgoose.
Given the colossal growth that online ticketing has witnessed in the recent years, what are your expansion plans?
We plan to expand our business into north and east India in the next couple of years. We will have our operations in 36 locations across India within three years. We aspire to become the company providing the best user experience online for bus ticket booking customers. We are confident of scaling to serve at least one lakh passengers a day in five years.