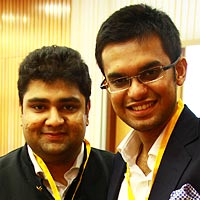 Rohan Ganeriwala and Adarsh Khandelwal
Co-Founders, Collegify
In an interaction with SMEntrepreneur, Rohan Ganeriwala and Adarsh Khandelwal, Co-Founders, Collegify, reveals that they globally connect with students through 'mentorship' oriented process and help them to get better guidance.
Tell us about your entrepreneurial journey.
Our journey has been very interesting and unpredictable. Certain plans went well whereas certain backfired. Being a market leader in consulting is an immense responsibility. We are showing youngsters the right path and we must continue to do so. We have highly qualified mentors who work with conviction to deliver their best. We have been marked as a top 100 start-ups in Singapore and within the top five at education.com. It is very exciting now as we are well known and everyone wants to work with Collegify. We are transparent and honest in our consulting with our biggest strength being personalised attention. Today, we have sent over 600 students to top universities.
How did the idea of Collegify come into existence?
The market was full of companies giving wrong guidance to people. I fallen prey to such consultants myself when I was applying abroad. There was a tremendous need for honest guidance and Collegify was born to fill that gap.
We are one of the first organised consulting companies in the country. We started with helping undergraduate students but today we are known for our PG/MBA consulting as well. Students want to go abroad and they are talented too, we just show them the right direction.
Share with us the challenges you faced as an entrepreneur in this segment?
As a start-up, we had a tough time in organising capital and planning investments. As we grew, the brand required advertising to sustain. That is an immense cost. Finding the right people and retaining them is another big challenge.
Please brief us about Collegify. How it is different from other academic institutions?
Collegify consults students applying abroad for undergraduate, post-graduate and MBA courses. Instead of providing typical consultancy services, we have opted for a 'mentorship' oriented process. An individual mentor is assigned to each student. The mentor helps the student to reach an institution that fits him and fulfill all his individual requirements. The mentors are usually passionate young individuals and fresh graduated from these institutions or universities or working there. They help students in application and admission process and provide them with cross-cultural exposure before joining the college.
What courses do you offer? Who are your associates?
Our primary service is admissions consulting for UG, PG and MBA applicants. We offer high school mentoring for students of Class 9, 10 and 11. We also conduct educational tours with different global universities and short-term courses.
When and what motivated you to expand your network? Are you adopting the franchise route for expansion?
The demand in the market motivated us to expand. We were working from Kolkata and mentoring students from all over the country and abroad. So we decided to reach closer to them by opening more offices. We are adopting the franchise route for some cities. Most of our branches are owned and managed directly by us.
How many institutions do you have in India and in which cities? Are all these company owned or franchised?
Collegify is an international process driven educational consultancy firm located in five cities across two countries. Founded in Kolkata, we have expanded to New Delhi, Jaipur, Bangalore and Singapore. Jaipur is our first franchisee; we are currently in negotiations for more.
What according to you is the scope for entrepreneurs in this segment?
There is immense scope in this segment. There are many players in the market but most of them are either individual consultants or companies working with the partner model. If entrepreneurs can set themselves apart from these two categories, they will find tremendous potential to grow.
What are your business expansions plans?
Our next expansion plan is to have offices in Mumbai, Chandigarh and Dehradun in India. We are also planning to launch Collegify in Dubai soon.