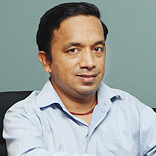 Vishal Bisht
Marksman Technologies, Entrepreneur E-learning
Vishal Bisht, an aeronautical engineer founded Marksman Technologies that provides a wide range of services in e-Learning applications development.
Harmit Singh (HS): Tell us about Marksman Technologies.
Vishal Bisht (VB): Marksman Technologies is a company that provides an E-learning platform to the educational and training institutes that offer E-learning services to their customers. Besides, the company offers services in Product Development, Custom Application Development, IT, content development and Consultation
(HS): What is the source of inspiration behind the idea?
(VB): There was no initial plan; it just happened. But now, I am pretty focused on my business of E-learning solutions/ Applications. We have developed many clients now including some government organisations.
(HS): What is your business model? Where does the revenue come from?
(VB): We develop E-learning platform for E-learning applications. We also develop applications based on SOA (service-oriented architecture). We generate business from various educational and training Institutes and others, who want to use our platform to offer E-learning solution to their customers.
(HS): Who are your clients?
(VB): Our clients are the various training houses, corporate, institutes, colleges, schools and the like, in short, organisations that impart training. We are also in the process of tying up with government sector units.
(HS): How did you initially fund your organisation?
(VB): Initially, the funds came from my pocket however, now we are planning to rope in organisations like SIDBI and others for financial assistance.
(HS): What benefits can a person have by associating with Marksman Technologies?
(VB): There are a lot of companies that are into E-learning, most of them vanish from the market, very soon. We have an edge over others in terms of the support and maintenance provided after sales. We provide clients the best quality content and updates. We also personally visit our clients for feedback and support. We deliver services to government sector also. It is the "personal touch" that makes us different.
(HS): What difficulties did you face initially?
(VB): People were initially not pleased with our products but this matter got resolved in the succeeding 1to 2 months. Another problem that we faced was, we were not able to develop products on time to satisfy the unique needs of our customers.
(HS): What are your future plans?
(VB): We want to establish ourselves as the best global company. We want to create a platform where any company can deliver E-learning solutions.
(HS): Who is your mentor?
(VB): Mr. Aseem Chauhan, Chancellor, AMITY and Mr. Vivek Agarwal, Founder, egurukul and the present CEO of Liqvid E-Learning Services Pvt. Ltd. are my mentors.
(HS): What advice would you like to give to the aspiring entrepreneurs?
(VB): Entrepreneurship is a little challenging. You have to address your problems well if you want to establish yourself as an entrepreneur.