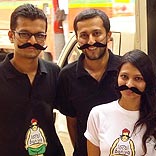 Their working style echoes volume of their knowledge and experience as they came up with the idea, i.e. offer discount on each and every product that falls under the umbrella of daily essentials and customers will follow you. Young entrepreneurs Amit Naik, Karan Mehrotra and Rashi Choudhary worked almost 15 hours a day to establish Local Banya. They ensure customers getting the best quality products at cheaper rates and delivered at their doorsteps. 
How did it all start?
Rashi: Karan, coming from a distribution background catered to numerous hotel chains and restaurants. He procured high quality groceries at low rates. We found that our products were of superior quality and also cheaper than those being there in the market. That is where the idea stemmed from -- we wanted to make these products available to people through a retail platform. Online was the way to go because food has a very low margin and online was the way to go to cut down overheads. When Karan spoke to me about launching Local Banya, I found the idea brilliant because online grocery retailing was present all across the globe and were doing very well. So, we started researching about opportunities in Indian market where Flipkart and Jabong were there and people were shopping online for clothes and shoes. We thought that groceries would be a lot easier because they have no variations.
How are the responsibilities distributed amongst the three of you?
Karan: Amit has a tech and web background so he handles tech oriented operations. Rashi has a very consumer oriented and retail approach; thus, she handles customer service and data management. I have experience in distribution, so I look after logistics and financial side of the company.
How did the funding take place?
Rashi: Well, it is currently self-funded. Our major chunk of funding is in rotation. Investment has not been so substantial; it would have been substantial if we were looking at a huge warehouse and inventory setup.
What challenges you faced when you started?
Karan: We faced a lot of challenges. We were initially an inventory based model. One of the biggest challenges was to convince FMCG companies to pass on the margins that were required for this business. One slight advantage was that I was the part of a distribution business for the past four years and have good relations with FMCG manufacturers. Fortunately, they supported us especially a few big FMCG companies.
How do you manage to give discounts on every product?
Karan: We are buying products at a discount. We are not warehousing most of them so we do not have the associated cost of warehousing . We have a product rating system in place where we rate products based on their movements, their margin structure, their availability in the market etc. We only inventorize based on our product rating system so end up inventorizing very little.
How do you execute the order being placed by a customer?
Karan: We have an ERP (Enterprise Resource Planning) at the back end that is connected to our website. As soon as a customer places an order, there is an alert on our system. The order is then put into process after verifying its authenticity wherein the products are allocated and distributed to their source. Once allocated to the source, we have a sourcing cycle  -- our teams that are constantly on the move through Mumbai sourcing these products and packing them into dispatch vehicles and then bring them back to our warehouse. In our warehouse, they go through tagging and packaging process where the quality, especially for perishable products, is checked.
Are credit or debit card facilities available for online payment?
 Karan: As of now, we do not such facility. Since we are dealing in perishable products, people have the tendency to check the products before making the payment. So, we offer cash on delivery facility. We have online payment gateways in the pipeline, it should be up and running in about a month's time, but before we go online with the payment portal what we are going to start is the card on delivery facility, in which people can swipe their credit cards at their doorstep.
How many braches does Local Banya have currently?
Karan: As of now, we are operating from our Andheri (Mumbai) office. We have four distribution centers coming up. From here, orders will be dispatched and redistributed.
How much time does it take to deliver a product?
Karan: If someone places the order before 7 pm today, they can get their order at 9 am tomorrow morning. That is the earliest possible cycle.
Has it happened that a customer has placed an order but wasn't there to receive it? How do you deal with such situations?
Karan: Each customer goes through a verification process from our end. So, our process has been faulty on one occasion when we sent out a delivery and the client had not responded, otherwise we did not face any such issues. A customer has the option of choosing one of four delivery slots a day. A customer can choose the delivery time between 9 am to 11 am, 12 pm to 2 pm, 3 pm to 5 pm and 6 pm to 9 pm.
What expansion plans you have for Local Banya?
Karan: We are planning to make our presence felt in Pune as soon as possible. We are also looking at taking Local Banya to eight to 10 metros by next year.