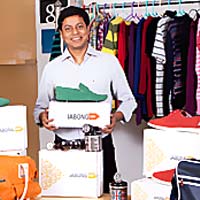 Tell us more about Jabong.
We started operations in January, 2012. At that time, most of the e-commerce players were focusing on deals and discounts.
However, our business model was very different. We focused on variety, widest assortment, latest trends, coolest styles, fastest delivery time and excellent customer service. This led to our growth.
What were the initial challenges you faced?
The major challenges faced by us were finding the right talent, ensuring high-quality service delivery to differentiate us from our competitors and getting the right brands on board.
What according to you are the advantages of online shopping?
There are a lot of advantages of shopping online than shopping from malls and streets like wide variety, comparison across brands, styles, colors, convenience of shopping across the globe with just a click, delivery at doorstep, flexible modes of payment and flexible return policies.
For instance at Jabong, customers can choose from over 500 brands and more than 50,000 products, and we deliver within 48 hours in top 10 cities.
How has e-retail evolved over the years?
The number of customers, who like to shop online, is definitely increasing every day. Online shopping is rising tremendously not only in metros, but also in small cities where people have aspiration and purchasing power to buy but do not have accessibility to brands/products. Moreover, benefits such as safe transactions, flexible payment options, cash on delivery, return policy and attractive offers are making online shopping more comfortable.
What are the challenges you still facing?
People still have apprehensions about online shopping, and that is why, we have introduced a unique 30-day return policy to gain consumer confidence. Under this policy, a consumer can return the products within 30 days if he is not satisfied or the product is not up to his/her expectations. The implementation of open box delivery (giving an option to the customer to check the product before accepting delivery) has got a positive response from customers.
How is Jabong different from its competitors?
Our business model is very different as compared to other online web portals. While other portals focus on deals and discounts, at Jabong we are providing exceptional service offerings through widest assortment of products, fastest delivery, high quality customer service, flexible payment options and being the index of fashion, latest styles and trends. We have been able to distinguish ourselves from other players in the market by creating a niche for ourselves in the fashion and lifestyle segment.
What are your current marketing strategies to deal with stiff competition?
A number of players have entered the Indian e-commerce space even though it is a volatile market as consumer's preferences are changing on an everyday basis. The right approach will be to sustain consumer interest to maintain the investment attractiveness of this market. Being a new entrant, we have witnessed tremendous growth in a very short span of time. In a highly competitive market like this, being selective on the medium that you choose and adopting innovative and creative strategies is the key.
What you consider before framing your plans?
Within a few months of launch, Jabong has become the most trafficked e-commerce site in India (as per Google.com traffic stats till June 1, 2012). Our growth strategies are built on the foundation of understanding the needs of our customers. We have introduced targeted campaigns to attain customers' attention. Targeting the relevant customers and being selective on the medium that we choose will remain the key pillars.
Where do you see the e-retail segment in the next decade?
The e-retail space in India is at a very nascent stage currently. With internet population expected to grow from current 100−120 million to 300−400 million users in next four to five years and with increasing share on online shoppers within this population, e-commerce is expected to grow exponentially. As per the ASSOCHAM survey, the online retail industry in India is likely to be worth Rs 7,000 crore by 2015.