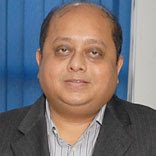 In this era of etailing, one more joins the bandwagon. Seema Seth gets a lowdown on the business of timtara.com from Arindam Bose, MD and Chief Customer Officer.
SS: Tell me about yourself, what was your previous profession and how did you think of coming into this business?
AB: I come from an IT, Telecom and Internet background. I have been the Chief Information Officer of LG and Videocon and helped these companies to launch successful B2C and B2B operations.
Internet usage in India is booming and a higher penetration of broadband and 3G increases the scope of e-retail in the country. At present, Internet retail in India is only about 0.05% of organised retail whereas in the US IT is at 5%. Therefore I find that the scope to be quite large with lots more potential in innovation and techniques. 
SS: What role did your family play in terms of supporting you?
AB: Without the support of family it is almost impossible to undertake this adventurous journey.
SS: What is your company's full name and what is your product range?
AB: Timtara.com is heavily focused on 360 Degree Smart DELIGHT - Employees, Customers, Partners and Investors. We sell branded electronics products like mobiles, cameras, IT products, personal electronics, home appliances etc. We also do some experimental products like perfumes, apparels and accessories.
SS: How did you fund the business initially?
AB: It was funded through private and angel funding.
SS: What challenges did you face in establishing your business?
AB: When you are new, there is a struggle on trust and credibility. Manpower is also a challenge and it is explained in Q # 6 below.
SS: What is your team size and what challenges did you face in putting your team together, how was the experience of hiring the first employees?
AB: We have a team of about 50 people. It is quite difficult to find people and speacially leaders who share the founding passion. And passion is very critical in a startup.
Our first employees came fresh from campus. Finding the correct leadership took some time.
SS: What is your product's USP?
AB: Delight is a core organisational DNA for timtara.com. We are rated Number 1 in India in "User Experience". And user experience is very important in internet retail. Thirdly, we sell only branded products with manufacturer's warranty at best price.
SS: What is your marketing strategy?
AB: We just completed the 1st year of operations. In this year, we remained very reserved about visibility and branding. We worked more on building a winning biz model with operational excellence. However, in the 2nd year we are working on enhancing our visibility across India.
SS: How are you planning to scale up your business?
AB: Primarily we have identified 3 important factors to scale up our biz. Firstly enhancing our high quality product range and offering them at the best price. Secondly, make our delivery mechanism more fast and adaptive. And finally, work extensively on our visibility.
SS: What is your turnover like?
AB: In the 1st year we exceeded our 1st year biz target of Rs 5 crore by a big margin.
SS: Where do you see your products 5 years from now?
AB: 5 years from now, we want to be India's number 1 and Most Preferred Internet Retailer.