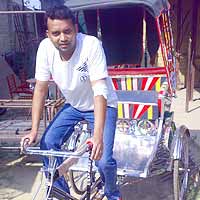 In an exclusive interview with SMEntrepreneur, Naveen Krishna, Founder and Director, SMV Wheels, shares more about his journey towards social entrepreneurship.
Can you give us a brief about the background of your company? When and how it started?
Soon after completing my Masters in Social Work from Banaras Hindu University in 2006, I got recruited in CARPART, a funding agency of Ministry of Rural Development. After that, I worked with several NGOs, and finally in April 2010, I founded SMV (Slow Moving Vehicles) Wheels with the idea to empower rickshaw pullers community by getting them the legal license of a rickshaw.
A rickshaw puller has to pay a rent of Rs 30 for 12 hours of service and besides the community do not have access to any formal financial institution. So, the objective of our organisation is to provide them the ownership of designed rickshaw in 55 weeks by paying Rs 300 per week.  Moreover, we give them the insurance of Rs 10,000 for rickshaw, medical claim of Rs 25,000 and legal license of rickshaw with photo ID card to prevent them from the harassment of police. At present, we have a base of more than 2,000 rickshaw pullers. Basically, via this platform, we are trying to organise the rickshaw puller community.
What prompted you to enter social entrepreneurship?
When I was pursuing my graduation, one night at around 11 o'clock, an incident took place in Lucknow where one drunken student of our hostel was beating a poor rickshaw puller because the rickshaw puller had charged Rs 15 instead of Rs 10. After hearing the loud noise, I ran out and somehow managed to rescue the poor fellow and took him to a tea stall near hostel. This painful incident made me to do something for the wellbeing of this hardworking community (rickshaw pullers) who give their sweat and blood to earn their livelihood.
What is the present scenario of the social entrepreneurship in India?
From 2008 onwards, social entrepreneurship has witnessed a paradigm shift in India, and therefore investors nowadays are increasingly investing in social enterprises to earn significant return on investment. So altogether, I see positive signs in the social entrepreneurship in India.
What are your key growth challenges?
Huge expectations from investors triggers challenges for us as it creates pressure to balance the impact in the commercial part. The toughest part for me as an entrepreneur is to see how I can return the money of the investors and help the poor rickshaw puller. Maintaining these two things in a balance is a very difficult task. Moreover, being based out of Varanasi, searching for investors in different metro cities also poses challenges for which I have to spend one and half years.
Who are your investors?
We have raised funds from five investors across the world: Silicon Valley Foundation, First Light Ventures and KL Felicitas Foundation from the US, Spark Venture Capital from the Netherlands and Social Entrepreneurs' Trust from London.
What are your future plans?
We are looking for likeminded investors, especially the Indian investors who can understand and sense the condition of rural India. So in this financial year, we are planning to raise more funds from investors.