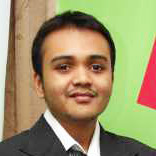 Samyak Chakrabarty might look like any other student when sitting in the mass media class of Jaihind College but his accomplishments stand out. The blackberry he carries is not a gift from his dad but his own investment. At the tender age of 19, he is the Managing Director of Electronic Youth Media Group, a group that he himself founded. Franchise India Media spoke to the youngest MD of the nation.
Shambhavi Anand (SA): Tell us something about Electronic Youth Media.
Samyak Chakrabarty (SC): Electronic Youth Media is a company with 2 sub-ventures, Concrea Communications and youthportal.in
Concrea Communications is a marketing and communications agency for youth. Here we work towards understanding youth as a market while keeping in mind the diverse origins, purchase behavior and thinking pattern of the age group. We carry out this analysis through several unconventional research models which are devised in-house. The data collected after research is then used as effective marketing strategy for our clients.
The second sub-venture, Youthportal.in is a networking site which has been started to connect the young in India to mobilize and initiate social change. By change I mean youth activism, entrepreneurship, political awareness and productive networking.
(SA):  How did such an idea occur to you? And how did it start? 
(SC): While working with NGOs and youth organizations, I realized that youth possess plenty of untapped potential which needs to be used for the right purpose. This was my initial idea which kick started the process.  
(SA): How did you initially fund your organization?
(SC): I made a business model and pitched it to high net worth individuals. That's basically how I got the initial seed fund.
(SA):  What is the USP of Electronic Youth Media.?
(SC): Electronic Youth Media is India's first youth marketing and communication conglomerate.
(SA): You started your business in the first year of college. Are you still continuing your studies? How are you as a student?
(SC): I am currently studying Bachelor of Mass Media in Jaihind College. When in class, I am like any other student. I am pursing a dynamic course so the projects that I do as classroom assignments are more like an academic backing to my work.  
(SA): What obstacles or challenges have you faced in bringing your company to this level?
(SC): I have made a few mistakes but the sour experiences have not deterred me rather they have inspired me to do better. I did not have a proper approach plan initially, I preferred going by the flow while of course keeping the business targets in mind. It was only a year ago that I infused structured approach to things. Even then I keep things a little flexible to allow free flow of ideas.
(SA):Did you at any point of time want to give up? What stopped you from giving up during the frustrating days of running your business? 
(SC): I am passionate about my work and that keeps me going, even during difficult times.
(SA): Do you have a role model?
(SC): No, I learn the best of things from everybody. I don't want to restrict myself to any particular personality.                                                                                                            
(SA): What, if any, advice do you have for new entrepreneurs?
(SC): Do what you really believe in. Let not the big-wigs of your industry judge and discard your new idea. If you think that your idea will work then go try it out (just don't lose somebody else's money though!!!) If you fail, then try to rise higher in your next phase. Don't loose heart.