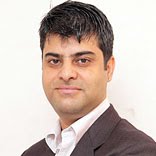 In a chat with us, Vishal Oberoi, CEO, Market Xcel, gives the lowdown on his company that is enagegd in Research so as to give best solutions.
Seema Seth: Tell me about yourself, what was your previous profession and how did you think of coming into this business?
R Vishal Oberoi: Back in year 2000 it was Manish & I who set this venture. It was the 2 of us with strong vision to create something from scratch and make sure that we sustain and grow together through all hard times.
We both used to work together previous to setting up Market Xcel and we worked together there for 5 years, enough time to know each other's strengths. While I manage day to day functioning of the business, Manish is on the lookout for new areas to manage and grow our business in.
The opportunity we saw was a gap in the market where there were only very large MR companies and very small regional level companies/consultant. We set it up with the focus and vision of graduating in size over the years. Today, we can say that we have achieved a sizable status and yet growing.
SS: What role did your family play in terms of supporting you?
RVO: The support has been immense; while we both took our time to manage and run business they ensured that it was always easy for us back home.
SS: What is your company's full name and what is your product range?
RVO: Market Xcel Data Matrix Pvt. Ltd. is a comprehensive market research company and offers studies and research projects in areas as diverse as B2B research, consumer research, media research, financial research, social research, and opinion and policy research. We imbibe & adopt the latest of research tools like CAPI/CATI thus, also providing web internet based survey solutions.
The list of services offered by Market Xcel includes:
Market Xcel helps clients through all phases of planning and development. With diverse backgrounds of our research team we offer our clients valuable insights combined with market understanding at both local and global levels.
We offer full service research services across multiple verticals to clients both Indian and Global clients. Our most typical research experience have been - analyzing and estimating market scenarios, research across product and label designing, creating complex indexes across various segments.
The vertical experience that we carry is spread across the following:
Business to Business
Advertising
Customer Satisfaction Management & Competitive Bench Marketing
Customer loyalty
Usage & Attitude
Segmentation & Profiling
Employee Satisfaction
Brand Performance & Positioning
Product Development
Data Collection, Data Tabs & Analytics
What sets us out is Insistence on the use of research best practices for all studies while collecting data. One of our core focus area's for any research is quality data even in most complex and hard to reach audience. We have extensive team with experienced people working across over 40 cities in India all through the year for various clients with whom we work for.
We have set the standard for quality data collection that is delivered on time, every time. We have a deep understanding of research, hence, able to anticipate and exceed the requirements of even the most demanding researchers.
•  Online Panel & CATI Services
Market Xcel's actively managed proprietary panel (called Xcel-Online Surveys) provides the industry with credible, quality, actionable data. Xcel-Online Surveys creates and maintains this environment by implementing our quality control standards and employing a dedicated panel management team that is solely focused on the development of a community of active, engaged and genuine respondents.
Market Xcel houses a Computer Assisted Telephone Interviewing (CATI) system to conduct sophisticated, large-scale telephone surveys for our clients. The system facilitates the timely completion of surveys and makes data available upon completion of each survey and allows our highly qualified interviewers to remain focused on collecting quality data.
SS: How did you fund the business initially?
RVO: The very initial funding were our savings from our last job where we were together.
SS: What challenges did you face in establishing your business?
RVO: The biggest challenge with any start-up is to sustain in ever competitive market and yet grow. We did come across similar situations when being taken serious was a challenge because of very limited size and presence. We were new in the market as a brand, this was another hurdle but our past individual record did helped us a lot in generating faith in the market. If you're not big, be different.
SS: What is your team size and what challenges did you face in putting your team together, how was the experience of hiring the first employees?
RVO: We are a team of over 100 people now in 8 locations across India.
SS: What is your product's USP?
RVO: Market Xcel offers a bouquet of services which includes customized research both International and large Indian to multi-national companies within India. In a decade long experience Market Xcel has worked extensively in sectors like Automotive, Healthcare & Pharmaceutical, Information & Technology, Telecom, FMCG, Retail, Banking & Finance, Media and Social Rural.
SS: What is your marketing strategy?
RVO: We believe in being in constant touch with our customers and our marketing team helps us in this. Rest, if you do your job well that's the best way to be in market and grow.
SS: How are you planning to scale up your business?
RVO: Most of our efforts are in direction with the market trends and India is currently scaling high on growth charts across all the sectors, having an upward trend. We are currently working towards retail as a sector and moving up the value chain by working towards new and innovative research methodologies. Our efforts are currently in process and will soon be adding few more services in our portfolio.
SS: What is your turnover like?
RVO: As of last financial year it was close to 12.5 Crores
SS: Where do you see yourself products 5 years from now?
 RVO: Adding additional value propositions in our portfolio has been key to our growth and success so far. India is a volatile market and is growing fast, adding the 2 factors we see ourselves making both our footprint and numbers double.
SS: Rising career opportunities in Market Research
RVO: Opportunities in marketing research are global in nature and call for a rich understanding of market culture and quantitative approaches. Market research is considered to be the fastest growing occupational categories today. Emergence of new age sectors like Telecom, Media (Digital), Retail & Insurance are helping the market research industry to climb to new heights with varied analysis of consumer insights.
There are interesting jobs available for people with a background in Statistics, Psychology, and Management in the field of MR. Even graduates who have a flair for doing field work can find a suitable opening in the field of MR. Some of the positions which are available in a full service market research firms are like Research Executives, Statistical Analyst, Field Supervisors, Data Collection executives, etc.