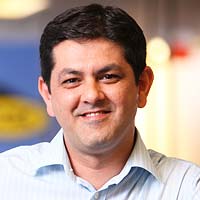 In an exclusive interaction with SMEntrepreneur, Rajiv Sodhi, MD & VP, GoDaddy India, shares his views about the growing need for small business players to operate online and how GoDaddy acts as a facilitator or an enabler helping them reach new heights.
How do you empower the small business players in market?
GoDaddy empowers small businesses by giving them the tools to name their idea, build an online presence, attract customers and manage their business.
India has more than 30 million small businesses with a small number investing in establishing a presence online. Most often small business owners either don't feel the need for one, or even if there is a felt need, they perceive building a website as very costly and complex exercise, thereby limiting their adoption of the internet.
We believe that it is important for us to highlight the real world benefits and ease of establishing an online presence. For this, we recently launched a multi-channel marketing campaign featuring Bollywood star Mithun Chakraborty to deliver this message in a fun and simplistic way. Our objective with these commercials is to help build the category in India.
What do you think about India as a market?
India is very unique in the sense that unlike the West, it is a 'do-it-for-me' market. Keeping this in mind, we offer our customers in India a award-winning, local and 24/7 customer care. Our team provides support and guidance to customers at every stage. Most small business owners are not very technologically savvy and we support them by taking them through a step-by-step process of effectively establishing their business online.  
The feedback received from our customers is a testament, not only of our exemplary service support, but also of the value addition and success they got by finding more customers when they took their business online. With an unmatched response time to queries, we have been a preferred choice of partner for our consumers and it is our endeavor to make their experience, easy and collaborative.
In what ways SMEs can grow their business exponentially by operating online?
GoDaddy firmly believes that by establishing an online presence, small businesses can expand their reach to a global audience, increase brand awareness and operate around the clock. The internet offers them the capability to take their business to the next level easily and cost effectively.
We believe that small businesses have the potential to be the driving force for the internet in India and we are here to help them leverage the power of the internet to build successful businesses online.  We help businesses to attract more customers and operate 24/7.
Are there any special benefits or schemes offered to woo these SMEs?
We offer our customers the complete range of products and solutions for building, managing and marketing their online presence. These include domain registration, hosting, website building, marketing tools and after-market services.
By using GoDaddy's Website Builder, small business owners can build a website, host it as well as get a domain name, all starting as low as Rs. 99 per month. Each plan comes with a free domain name and an annual plan along with various customizable designs to choose from, tailored specifically to our consumers' needs. One doesn't need any technical expertise to build the website. With our intuitive design tools, creating a website is easier than one can imagine.
What challenges did you face in terms of creating awareness and persuading small business owners to operate online?
India is a fairly nascent market when it comes to the internet. Although, we are witnessing a gradual shift towards IT adoption by small businesses, the rate is still very slow. Typically, Indian businesses still hesitate before going online because they feel it is costly and that they need to have technical knowledge or expertise in the field.
Our strategy is to drive awareness and educate our potential customers that it is not difficult, time consuming or costly to build an online presence. GoDaddy offers a one stop shop to small businesses for all the relevant products and solutions needed to establish and grow their business online.