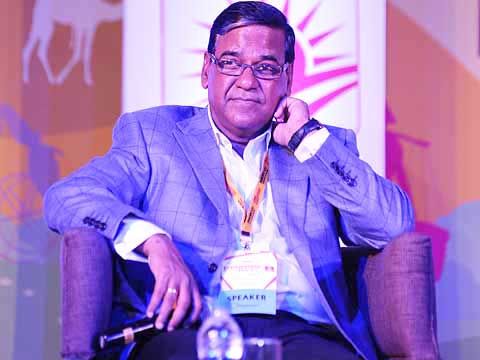 Pramod Saxena in partnership with South Africa based Blue Label Telecom founded Oxigen Services India Pvt in the year 2004 with an objective to provide payment services to the rural as well as urban population of India, through a digital wallet. In terms of revenue, Oxigen Services did Rs 5,000 crore last year and the firm is expecting to exceed Rs 10,000 crore mark in the current fiscal.
In an interaction with Entrepreneur India, Pramod Saxena, Founder & Chairman, Oxigen Services, shares his views on how did the idea to start Oxigen Services come into being, challenges faced and growth prospects ahead:
How did the idea of starting Oxigen Services come about?
We wanted to create a single point payment mechanism for all telecom services. In services, the real challenge is to make payments. So our key objective is to allow consumers to make all payments from a single point, whether it is a telephone bill or an electricity bill. Aggregation of services and bringing all the service providers on a single platform seemed a noble concept. So we created this convenience for people to pay for multiple services from a single point. We started in 2004 with a seed capital of Rs 4 crore and today, Oxigen Services is a $150 million (Rs 921 crore) company.
What were the difficult phases that you have gone through at the initial stage of the venture?
In order to build an infrastructure, it is very crucial to have a proper finance and workforce in place. The key challenge lies in finding investment to support a large scale deployment across the country. In the beginning, everything is always tough because it requires a lot of education and experience to build a successful enterprise. The other challenge was to deal with small retailers, shops and make them understand the concept.
Having worked as the CEO of Essar Group's telecom business, how do you amalgamate your experience in the operation of the venture?
Due to my experience in the telecom domain, I could sense the opportunity to aggregate the entire service providers in telecom industry. We created a business model that can help retailers reduce capital and hassle of working with multiple service providers. Telecom was the only space that had prepaid environment at that time. Our understanding of telecom helped us conceive and conceptualise the idea.
What kind of transformational growth Oxigen Services has witnessed over the period of time?
We started Oxigen Services in a small two room apartment at Safdarjang Enclave with a team of seven to eight people. And in a span of six months, we have added ten to twenty people. Today, we have 600 people directly employed by us. Besides, we have an ecosystem that has an engagement of more than 5,000 people.
How difficult was it for you to bridge the gap between rural and urban India in terms of financial inclusion?
Government is very keen to promote financial inclusion for rural population because they do not have bank accounts. The government is also talking about direct benefits, payment and subsidies, or electronic benefits like pension payments. At present, people do not have direct access to banking. Therefore, the money cannot reach them in time as it goes through various channels; sometimes it is lost or stolen.
Hence, we have opened a wallet account which is linked to their mobile phones, so that we can get access to all banks and give banks access to our wallet holders. We have also connected with UID Adhaar, so that we can confirm the identity of an individual through biometric authentication. Once it happens, the government allows payment to come to that person's account through our system. We are looking at a big opportunity of money transfer from urban to rural areas.
What are your revenue streams?
Mobile payment solutions, money transfer, online payment services, and retail payment services are some of the key verticals that drive the revenue of our company. In terms of revenue, we did Rs 5,000 crore last year and this year we will exceed Rs 10,000 crore. We already have Rs 1,500 crore in money transfer, which remarks the start of money transfer services in our own money wallet.
How does the partnership model with various PSUs and private banks works?
In the beginning, we developed a mobile wallet for SBI. We also support SBI in mobile banking, internet banking and phone app with service feed. Besides, we are also working with lot of banks providing services to their mobile banking and internet banking customers. ICICI, State Bank of India, Citi bank, and HDFC bank are some of the banks to which we provide services.
Fund raising is considered as one of the key challenges any start-up face at the initial stage, so from where did you secured funds?
In 2006, Citi bank invested in our company and in 2008, we got the funds from Microsoft Ventures. Approximately, we got around $50 billion investment from these two companies.