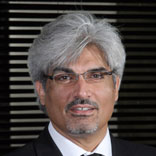 What made you an entrepreneur?
When I finished my graduation in 1980, my plans were to go for further studies. But one of my friends wanted someone to help him out and I joined 'Inter Ads' during graduation. For some reason, I had to get out of that job, so I started looking for a job in the industry. I applied here, there, and everywhere but nothing materialised. So, it was more out of compulsion than choice that I had to start on my own. Agencies were there but they didn't want to hire me. If somebody had, they would have built a Percept.
How did you get your first client?
There was a small tailoring shop in Colaba, Mumbai, for which I had to convince him to spend money on branding and advertising. The other one was into retailing of carpets, who had three to four retail outlets. Slowly we started working for bigger brands. There were agents and others who used to do a bit of advertising, which was just about Rs 10,000 a month. It took us almost one year to break even. In September 1984, we got our first big break. Saurashtra Cement was our first big client. They wanted to make a promotional campaign but nobody wanted to come for this backward location. In 1984, it was for the first time that a corporate campaign was run.
What was your family's role in helping you start up?
Advertising was not at all recognized as an industry. It was more related to glamour, models and stuff like that. When I left my studies, my family termed me a failure. "It's shady", that was the initial reaction, but when events started to happen and money came in, my father started helping me in business. My father nominated my brother to protect his money, so my brother also joined. Eventually, my brother also got interested in the business. He looks after celebrity, sales, marketing, and music. All that is left like tax and legal aspects, I look after them.
Give us a snapshot of the company's growth over the years?
Over a period of time, we grew from being an advertising agency to a marketing and communication company. We grew the company to media and communication and got into movies and music.
Percept took a new avatar when it became B2C. But we still buy advertisements. We slowly moved from one business to other. If you see the advertising business, it's consumer insight and trade, you got to take that trade approach and for the same, we got into media, content, movies and sports. While working for these segments, our focus shifted from B2B to B2C. From 1984 to 2005, we managed on our own. Then, we started making movies, building ad sales, but for that we needed capital, so we got into private equity. Soon, we plan to take the company public. Right now, we are more focused on consolidating.
After Middle East, are you looking to expand further?
In some time, we are planning to go across Asia. We are targeting Singapore, Vietnam and Thailand. We are already present in Srilanka.
How big is the Indian media and entertainment sector? What changes have you witnessed in the industry in the last three decades?
The media and entertainment sector takes care of Rs 60,000 crore. I have been in this industry for 30 years. Initially, advertising was considered as an art. Now, it's no more just about good creation, it's practical solutions which work. It's getting more and more objective, as the industry at present is fiercely competitive. ROI has become very significant. Advertising has already become a science, more and more tools and technology will play a bigger role.
What is your piece of wisdom to upcoming entrepreneurs?
Don't expect success in terms of results, follow your dreams, follow your vision, have fun with whatever you do.