Nobody Wanted To Hire Me
He is a game changer but hardly knew the rules of the game when he started. He had no financiers and no forefathers when he started Percept, an advertising agency, in 1984. In a tete-a-tete with Harindra Singh, Vice Chairman & Managing Director, Percept L
Tags: Harindra Singh, Percept, entrepreneur, advertising, public relations, entertainment, media
BY Punita Sabharwal | June 30, 2012 | COMMENTS ( 9 ) |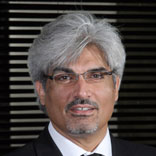 What made you an entrepreneur?
When I finished my graduation in 1980, my plans were to go for further studies. But one of my friends wanted someone to help him out and I joined 'Inter Ads' during graduation. For some reason, I had to get out of that job, so I started looking for a job in the industry. I applied here, there, and everywhere but nothing materialised. So, it was more out of compulsion than choice that I had to start on my own. Agencies were there but they didn't want to hire me. If somebody had, they would have built a Percept.
How did you get your first client?
There was a small tailoring shop in Colaba, Mumbai, for which I had to convince him to spend money on branding and advertising. The other one was into retailing of carpets, who had three to four retail outlets. Slowly we started working for bigger brands. There were agents and others who used to do a bit of advertising, which was just about Rs 10,000 a month. It took us almost one year to break even. In September 1984, we got our first big break. Saurashtra Cement was our first big client. They wanted to make a promotional campaign but nobody wanted to come for this backward location. In 1984, it was for the first time that a corporate campaign was run.
What was your family's role in helping you start up?
Advertising was not at all recognized as an industry. It was more related to glamour, models and stuff like that. When I left my studies, my family termed me a failure. "It's shady", that was the initial reaction, but when events started to happen and money came in, my father started helping me in business. My father nominated my brother to protect his money, so my brother also joined. Eventually, my brother also got interested in the business. He looks after celebrity, sales, marketing, and music. All that is left like tax and legal aspects, I look after them.
Give us a snapshot of the company's growth over the years?
Over a period of time, we grew from being an advertising agency to a marketing and communication company. We grew the company to media and communication and got into movies and music.
Percept took a new avatar when it became B2C. But we still buy advertisements. We slowly moved from one business to other. If you see the advertising business, it's consumer insight and trade, you got to take that trade approach and for the same, we got into media, content, movies and sports. While working for these segments, our focus shifted from B2B to B2C. From 1984 to 2005, we managed on our own. Then, we started making movies, building ad sales, but for that we needed capital, so we got into private equity. Soon, we plan to take the company public. Right now, we are more focused on consolidating.
After Middle East, are you looking to expand further?
In some time, we are planning to go across Asia. We are targeting Singapore, Vietnam and Thailand. We are already present in Srilanka.
How big is the Indian media and entertainment sector? What changes have you witnessed in the industry in the last three decades?
The media and entertainment sector takes care of Rs 60,000 crore. I have been in this industry for 30 years. Initially, advertising was considered as an art. Now, it's no more just about good creation, it's practical solutions which work. It's getting more and more objective, as the industry at present is fiercely competitive. ROI has become very significant. Advertising has already become a science, more and more tools and technology will play a bigger role.
What is your piece of wisdom to upcoming entrepreneurs?
Don't expect success in terms of results, follow your dreams, follow your vision, have fun with whatever you do.
Please add your comment
Yogendra Kumar Sharma
November 17, 2012 at 11:20 am
Sir, thanks to enlightened the ideas of mine... bcs just i am job with telecommunications.. since 7 years but really what i feel that gap in direction as far as carrier is concern. So, i would like to thank for your kind enterprenuer spirit which you shown in your interview.
Reply |
Mahesh Varma Uppalapati
November 08, 2012 at 11:03 am
Mr. Singh your story has given me a light to plan my career, My studies were discontinued due to health, now recovered completely, my parents feel without a graduation life is a failure, I have a dream to contribute some changes in education and training industry. Four years of working with other people made me to realize, that I should follow and achieve my dream but if work for others they would hire our dreams for their success. its true.
Reply |
ayush
November 02, 2012 at 10:18 am
sir, an ideal story to boost up one's morale to be an entrepreneur.
Reply |
Ankur Chaudhary
October 23, 2012 at 3:10 pm
It is not that easy as we read it...lot of hard work, marketing, contacts and patience are involved in it. i also work within the communication industry and know little bit about it. Percept is the name which i know from my childhood. i tried to get into it however these guys said that they get vacany right back from MUMBAI. Mr. harjinder singh, after reading your interview, you are into the list of my idols however i request to change your working modules for employment. It is a suggestion that as you have office in Delhi, you should have a HR team back in Delhi as well. Thank you!!
Reply |
Sanjay
October 15, 2012 at 4:11 pm
Great Interview .. quite inspiring and reatriates the fact that follow your dreams and be at it .. results will follow...
Reply |
DreamIndia
October 01, 2012 at 11:38 pm
I loved your story ..I would like to highlight what DheeruBhai said \"If you don\'t build your dreams then someone will hire to build theirs\". So better you follow your dreams.
Reply |
Ajay Goyal
September 15, 2012 at 6:17 pm
Wow!Nice interview. I loved reading the entire interview. I\'m thinking on the similar lines these days.
Reply |
Mr.Pradip pillai.
September 15, 2012 at 6:13 pm
Mr. Singh I congratulate you for your success..But in my practical life I think with hardworking, your luck also give you support.
Reply |
sanjeet
September 09, 2012 at 2:51 pm
liked it,bleave in can do-move on-target is never away
Reply |