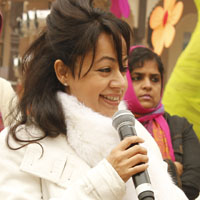 Shubhra Bhardwaj
Founder Director, Ferriswheel
In a tete-a-tete with versatile Shubhra Bhardwaj, Managing Director, Ferriswheel, we came to know about her vision to build an educated performing arts community that has multiple avenues to generate business, her entrepreneurial skills, future plans and much more.
How did Ferriswheel come into existence?
I worked in the performing arts industry globally for almost two decades before I thought of venturing out on my own. I felt that in India at that time, we were using our skilled work force, evolved aesthetic to a compromised delivery and no end benefit to the artists or the clients. I had travelled the world extensively and was aware of the professionalism in the West. With my keen eye for detail, I decided to set up an organisation that challenged norms, conventions in creative and management practices and which would set a benchmark for the industry. Ferriswheel was the result of a few years of wanting to create a cutting edge, niche and extremely professional agency. This whole process was extremely exciting and enriching experience for me.
What differentiates Ferriswheel from other event management agencies?
Most event management agencies in the market thrive on their coordination and vendor database. Ferriswheel in its essence, is a content-driven agency that not only has a great team that puts an event together flawlessly, it also has a strong content and artist base. We have a massive databank of performers. Owing to this, we are able to create original content and creative ideas that drive the company and the shows it executes. The company's extensive exposure to the international market also aids us to make use of latest state of the art technology for our events. We believe in quality, client satisfaction, respect for an individual, his growth and freedom – this is practiced across board from artists to client.
What were the challenges that you faced initially?
The biggest challenges were protecting our interest, liquidity crunch, team motivation, competition foul play, structure and procedures within the company.
You have also been successfully managing theme parks. Could you tell us more about it?
Ferriswheel is capable of very strong off site operations to a variety of clients including theme parks, amusement parks, government agencies, event companies and corporates. Ferriswheel has curated some of the top theme parks in the country. We handle entertainment operations, complete design and execution of the monthly and daily programming and everything related to it. Kingdom of Dreams (KOD) was our first client. Ferriswheel's role at KOD encompassed content providing and programming in the ethnic domain for almost four years. Ferriswheel now has been contracted as the solo event agency for 'Adlabs Imagica', the first of its kind International standard theme park in India situated on the outskirts of Mumbai. We have 100-member strong team stationed on site consisting of crew and artists who work and perform at the park seven days a week 11 hours a day.
How do you manage to promote Indian art in various parts of the world?
I have been working in the field of performing arts both in India and abroad for over 20 years now. I have been constantly travelling to festivals both at national and international levels with artists to promote performing arts. Bodies like the Ministry of Culture & ICCR have been a great support to us. We have slowly graduated from this to be a full-fledged event management company.
What's in store for the entertainment industry in 2014?
The future of the entertainment industry in the country is very bright. People slowly are getting a better understanding of this industry. People are seeing it as a viable career option now. There is a maturity in the audience's choice in terms of spending their money and free time. There are better quality stadiums and venues available. Even high quality technical equipment is available within the country now. There is a whole dynamic shift in the perception of entertainment, and for us, to be a part of this shift is very exciting.
Undoubtedly, there is a tremendous amount of growth in niche festivals and unusual entertainment offerings in the market. As the audience matures, so will the market. Ultimately it's a simple equation of demand meeting supply. The entertainment market is also getting structured, organised and mature. Bodies like EEMA that unite agencies to raise policy issues with government and other bodies that interface with event companies help in this regard.
How Intellectual Property (IP) will prove to be the next big thing in the entertainment industry?
The entertainment industry in India is getting extremely growth oriented. There are new revenue models emerging and more job opportunities being created. The future of the industry is in its IP's. Companies are trying to find new avenues for increased revenue and talent presentation. Every company aims to own a successful IP today. While Wizcraft created IIFA, Sunburn is Percept's property.
Ferriswheel owns a number of IPs as well. Worldfest is our annual international performing arts festival attempting to bring together dancers from different countries to perform on a single platform. The festival is a celebration of life, colour and music from different cultures and aims at promoting Mumbai and India as tourist friendly and safe destinations. Worldfest hopes to create global citizens by uniting the youth of today as one people, enriched by individual differences and united by the common thread of humanity. The festival is committed to promoting performing arts at both national and international levels and also encourages cross-cultural understanding and global cooperation.
What are your future plans in terms of revenue target, growth strategy, taking Ferriswheel to more countries and your upcoming projects in India?
We aim to be the top agency in the country and plan to pick up a bigger chunk of the market share. We are already very strong in certain segments like large-scale sport ceremonies. Having done eight games and picking up tender after tender has ensured client and market faith in team Ferriswheel to deliver large-scale public events to perfection.
We have five verticals. We are currently concentrating on consolidating the existing verticals aiming to restructure and grow. We plan to manifest the potential of what we have built so far and tap into the experience that everyone has got, motivate ourselves to deliver better. We also intend to monetise and leverage the brand that Ferriswheel has become.
What advice would you like to give to other aspiring women entrepreneurs?
Start where you are, use what you have and do what you can. Don't look for subsidies or preferential treatment. Have faith in your business and your product. Being a woman should not be your calling card.