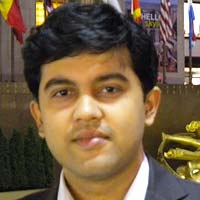 In an interaction with SMEntrepreneur, Sumit Maniyar, CFA, Co-Founder, Function Space, discusses his firms future plans and the scenario of e-learning portals in India.
What is the present adoption rate of e-learning platforms in India?
India has one of the highest growth rates of e-learning (17.4 per cent CAGR) in the world while the aggregated global growth rate of e-Learning is 7.6 per cent CAGR.
India e-learning industry is reported to touch $1.29 billion by 2018, which are the major segments that are likely to drive the demand?
There are different parts of the Indian e-learning industry that encompasses content providers, learning management system and distribution platform.  Among all these segments, learning management system and distribution platform are likely to drive the demand.
What is the potential impact of e-learning platforms on the India Education System?
E-learning affects the entire education sector. It has changed the methods of creating, storing, distributing and producing learning content. The rise of e-learning platforms will result in large volumes of content becoming freely available. Education companies will focus on delivering chargeable premium bespoke and ancillary services.
Give us a brief of what the "Function Space" is all about? How Function Space is different from other e-learning platforms?
Grasping concepts of science is a three-step process that includes learning, discussing and solving problem. Currently, all e-learning portals for science offer only fragmented resources and not a complete solution. Function Space provides 'one-stop' solution for learning science on web. It focuses on providing complete ecosystem with the right set of tools for its participants from academia to corporate research. The underlying idea is to learn from books, video lectures and articles. If required, you can discuss these ideas/doubts with your peers and subject matter experts from all over the world. You can also validate your learning by solving problems on the platform. Of course, you can do all of this for free. We believe that there should not be any charge on basic education.
What challenges are you facing in terms of positioning Function Space as one of the leading e-learning platforms in India?
The biggest challenge for us is to get user feedback. We ask for bare minimum details from our users which limits our ability to predict likes and dislikes of users. To overcome this problem we're using customised data analytics tools, feedback tools and offline meetings with our power users.
Are the contents of Function Space affiliated by government institutions?
No but we have a big user base from 190 countries who contributes on the platform and generate content.
How did you allocate the recent seed fund raised from Nexus Venture Partners?
Fortunately for us, it was quite smooth. We had got couple of investors who were interested in our venture. We were also selected for next round by 10,000 start ups and web-summit (amongst top 10 start-ups in India at WS). Eventually, we raised seed investment from a well-known VC in last December. Proceeds from the fund raising will be used to scale the network and develop new features to improve user experience.
Do the resources of Function Space fulfil the queries of all segments starting from K-12 to higher education?
Function Space offers learning solutions from high school level to research level students.
What is your roadmap ahead?
We would like to attract and engage power users on our site, enhance user experience by adding features especially designed for science. We will have features suitable for everyone - from passionate learner to an enthusiast. Our vision is to become a 'one-stop' solution for learning science.