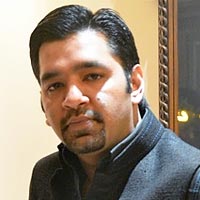 Please give us a brief glimpse of your entrepreneurial journey so far?
InfraBuild Venture Partners (IVP) was incorporated in early 2012 after working on the concept for almost three years. The journey has been exciting, but not without our share of struggle, setbacks and failures.
Initially, the market was skeptical of our survival because of the high barriers of entry that exists in the sectors we decided to operate in - energy, defence, healthcare, financial services and trading. We in our endeavour also made some mistakes along the way, which is a part of the learning curve. However, the experience had ensured that now we have a clear vision and have made our own niche space. It took us more than a year and half to establish our credibility and get our feet firmly planted on the ground.
I have a bachelor's degree in finance from the Fox School of Business and Management, Philadelphia. After completing my education, I worked with BNP Paribas and Credit Suisse in New York as a part of their energy trading desk. I attribute my interest in oil & gas to the exposure and experience that I gained in New York.
Subsequently, I moved back to India in 2008 and worked for an energy company which was relocating a 100,000 bpd refinery from Germany to India, wherein I was a part of the corporate finance division assisting in raising funds for the project. Further, I worked for a power-trading firm in the corporate finance division again. These two assignments gave me an insight into the Indian energy market.
Both the assignments in India had an element of business development attached to them, which further enhanced my resolve to start on my own. This brought about the difficult decision to quit a high paying, secure job and take the leap towards entrepreneurship.
IVP has two other managing partners with over 35 years of international business experience. The second partner is a retired armed forces officer with masters in defence studies and has considerable exposure as a consultant to various international defence manufacturers. The partnership was a natural progression of working together on assignments in previous firms and common entrepreneur streak. All three partners come from different professional backgrounds. All have in-depth sector knowledge and large networking base which brought several opportunities to a common platform - IVP.
The partners contributed towards a minimum start-up investment to cater for office infrasturcture and initial operating costs. Generally, a start-up takes about an average of 3-5 years to turn revenue positive, but we managed to make our bottom line positive with long- term contracts within a short span of less than 2 years.
Beside experience and know-how, what were the other factors that compelled you to expand IVP operations into different verticals?
Energy, defence and financial services were natural extensions of our work experience. Since defence is a specialised field, the other partner has a degree in defence studies and considerable exposure as a consultant to various international defence companies. I have worked with energy trading desks at several banks in New York and worked for several oil and gas companies. So we understand these sectors.
Along the way, we identified a gap in healthcare services and energy infrastructure that requires consultancy and liaison services as well as trading and sourcing equipment in oil and gas, power and healthcare.
Now when we look back, we see that these verticals are all interlinked. It took us a while to study and understand these sectors, and now we have sector specialists working on all sectors and sub-sectors of each of our verticals. So, all pieces of the puzzle have fit in perfectly.
Do you plan to expand your scope of operation in any other industry also?
At present, we are consolidating our efforts put in over the last two years. We are finalising long-term contracts in energy, healthcare and infrastructure. It's pertinent to mention here that we operate deep into sectors. For example, in financial services, we have mandates from companies for raising funds, buy-outs and companies seeking strategic investors. We see an immense opportunity, wherein sophisticated investors can create significant value with the current market scenario. This leaves us with very little room to expand further into other industries immediately.
Having said that, we feel we need to tap into the retail side of business. It is rather early days to talk about it, but we are evaluating opportunities in education and retail (both online as well as physically). At the moment, it is at a due diligence stage and we would divulge more once things are finalised.
What were the challenges that you faced initially and in the process of scaling-up your business?
Initially, there was a lot of scepticism about our survival. All the sectors that we operate in have well established players, high barriers to entry and painfully long gestation period. To counter these and more importantly for survival, we took a very methodical approach wherein we undertook a variety of projects that we categorised into short-term, mid-term and long-term projects.
We have taken projects, which were on the drawing board as a concept to reaching a stage where these concepts have been converted into contracts both long term as well as short term. Now that we have reached this stage, the next major goal is to take IVP from a start-up SME to an established major enterprise.
We believe that systems need to be put in place for running of a smooth and successful enterprise. For this, we are ploughing back most of the revenue into the business with an aim to make IVP a formidable enterprise over the next 3-5 years.
What are the emerging trends in energy, infrastructure, healthcare and defence sectors?
Energy: Looking at the last decade or so, there has been a tectonic shift in the equation. Asia, apart from being a major consumer of energy, has also become a major owner of energy assets and provider of energy infrastructure. India and China have taken a stellar role in leading the Asian countries.
Today the likes of Reliance, Essar and Adani are in competition with international energy majors for some of the largest assets globally. This has opened up a great opportunity for auxiliary and support services in upstream, mid stream and energy infrastructure.
Domestically, there is no doubt that there is huge deficit in supply of natural gas for local consumption. While supply is increasing due to various global factors such as shale gas discovery in the US, the problem lies in inadequate infrastructure to transport the LNG from the port to the interiors of the country.
We strongly feel that LNG will play a major role in providing cheaper, greener alternative fuel but we have a long way to go before proper infrastructure is in place. Internationally, we are very bullish on Iraq. As a country, Iraq is operating at 40 per cent of oil production capacity as compared to the pre-war production. This presents a tremendous opportunity in itself in energy and energy infrastructure space.
Infrastructure: Public infrastructure such as airports, public transport systems - including highways and metro has changed the way we commute. I think we have just scratched the surface and with a country as large and geographically diverse as India, connectivity still remains a major issue. The trend for the next decade or two will be to first better the infrastructure in Tier II and III cities, and then improve upon the existing infrastructure in the metros by adding services such as urban rapid transportation systems.
Healthcare: Healthcare industry is currently valued at approximately $80 billion and it is poised to grow at an average CAGR of 21 per cent for the next 10 years touching $280 billion by 2020. This spur in healthcare is not only visible in metrocities but also in Tier II and III cities.
By some conservative estimates, rural India will have a potential requirement of 1.75 million new beds by 2025. Presently, healthcare is a fragmented sector and private equity players have been playing a significant role to spur organic as well as inorganic growth, which has lead to a process of consolidation.
There has also been a phenomenal growth in medical tourism to India as well as exporting healthcare services to countries worldwide especially the African sub-continent and Middle East has accrued exceptional profits in this sector.
Defence: Between 2006 and 2010, India surpassed China as the largest importer of weapon systems. It is no secret that all major defence OEMs are vying for a piece of India's insatiable appetite for defence equipment. The Indian defence and homeland security market is very lucrative due to the following factors:-
1. India largely has an import driven procurement with almost 70 per cent of the equipment being imported.
2. There has been a recent shift Defence Procurement Policy towards buy Indian which will lead the foreign OEMs to either form joint ventures with Indian partners or do a Transfer of Technology (ToT) to India.
3. The offset requirement of 30 per cent for defence procurement helps in leveraging capital acquisitions to develop the Indian defence manufacturing industry. 
Which sectors, according to you, are attractive for investment in India currently?
Although the government could do a lot more in terms of policy, encourage manufacturing, import duties etc, India in itself has a robust market and has its growth story intact. Personally, I feel education and healthcare space is an attractive investment destination both in terms of the domestic investment and return scenario in India as well as exporting our world class services and institution across the globe.
What are your long-term growth strategies to emerge as a leader in the market or to combat competition?
The vision for IVP from the onset is to be a long-term player. We believe that quality work will on its own translate into monetary gains. So our motivation was never to make quick money, but to establish and secure ourselves through well thought out and world class projects.
At times, this approach was used to be frustrating because we were doing some exemplary work, but still the monetary gains were not seen initially. Now, we have established ourselves and made a respectable name for IVP in market and this itself combats a lot of the competition. In a very short span of time, we became the partner of choice of several blue chip companies globally.
What sets us apart from the rest of the competition and has put on the path to emerge as a market leader in our field is the fact that we are prepared to play the long term game.
How do you view the entrepreneurial and start-up ecosystem in India?
Intrinsically, we as Indians have been risk averse. Therefore, if you ask a youngster on what his aspirations are – the most likely answer would be towards a safe profession, such as doctor and engineer.
Although this thought process is beginning to change, we still have a long way to go before we catch up with the western world. More and more people are beginning to take the risk and follow what they really want to do rather than following the beaten path.
If we look at the most successful organisations, you will find that world over they have been founded by first generation entrepreneurs like Bill gates, Steve Jobs and Richard Branson.
Start-up ecosystem in India, although at nascent stage, is witnessing very exciting times. Although HNI's and angel funds have been providing funding for a while, we would like established institutions to incubate businesses as well and look deeper rather than just at the bottom line of a company.
IVP has mandates from many start-ups/entrepreneurial ventures looking for angel funding. Therefore, we have a pulse of what is going on out there. We hand hold them in preparing their Information Memorandums, financial models and introducing them to the right partners to help them grow. So we in a way are incubating many businesses under one umbrella.
How do you act as an enabler/facilitator for individual entrepreneurs and SMEs?
We regularly work with aspiring as well as established entrepreneurs wherein IVP acts as a facilitator/enabler by forming the right partnerships and aligning capital with entrepreneurs and their ideas.
We are consultants to several SMEs as well as large multinational companies thereby, pitching the products and services of SMEs to large multinationals. We also work with several govt agencies internationally, wherein SMEs provide their products and services.
How do you handle business uncertainties like stringent govt regulations, policy changes and tax issues?
We have a two-fold approach to tackle such issues. Since our team has vast experience in these sectors, the regulations have been imbibed in them during their exposure to the sector and we are able to foresee and address uncertainties and pitfalls with regards to businesses that we operate in.
However, we are mindful of the fact that we operate in a very dynamic business environment where regulations, policy, tax codes and business trends are constantly undergoing a change. Hence we have a team of analysts that map the sectors on a regular basis.
We regularly publish sector reports for ourselves as well as our clients. This ensures that we are a step ahead of the game and can be well informed of the regulatory and policy changes and have a realistic view on our projects keeping in mind the operational problems in India.
What is your advice for aspiring young entrepreneurs.
I strongly believe that if you believe in a concept and take it to the market then the market forces in themselves will either validate the concept or teach you enough to tweak it to the needs of the market. So believe in yourself and give it 200 per cent. Be patient and listen to your gut.