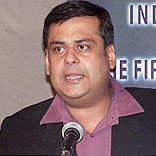 Rahul Mittra had no professional training but started his stint as a journalist, then went on to public relations and finally became an entrepreneur by establishing Brandsmith. Brandsmith's core competence is in Brand management, Business advisory, corporate communication, niche events, Product launches, Star endorsements, and film advertising and promotions etc. Rahul Mittra, CEO Brandsmith India, tells us about his journey and entrepreneurship.
Bhuvnesh Talwar: From a being journalist to PR/corporate communication and finally an entrepreneur, how has the experience been and what was the idea behind Brandsmith?
Rahul Mittra: I have been a part of the corporate world for over a decade before starting my own company Brandsmith. My first job was with the Times of India as a Sub-editor-cum reporter, then Senior Manger-cum-Head Russian operations with Core Healthcare, Head Corporate Communications with Travelite, then Co-founder and COO of the news portal  "www.indiareacts.com". My last job was with the Times Group where I was heading Medianet, the in-house PR & positioning agency. Every assignment undertaken helped me acquire a particular core skill set. As a journalist I sharpened my writing skills, as a Public Relations Manager I acquired insights with regard to international business. As I went along I picked up skills in public relations, fund raising, corporate communication, media advisory, etc. and realised that there were a lot of public relations and event agencies but no professional company who would exclusively cater to the positioning of brands and individuals. The whole branding space was hitting me hard. It was then that I conceived the idea of Brandsmith, a company which would think and act on behalf of the client and offer them the right solution.
BT: What roadblock did you come across as an entrepreneur during initial days?
RM: I had to be careful in positioning myself right and also give Brandsmith an impetus.  I had to first start with my own branding, with an eye on synergy. The differential factor is the crux of branding and that is what we were able to achieve. Thus, the biggest challenge was upholding what I stood for and projecting them in the right perspective.
BT: What are the difficulties you face now when you are established in terms of retention rate, business expansion and clientele?
RM: Well, difficulties have never bothered me as stress is my drive and challenge is what I aspire for, the biggest one being able to live up to the expectations of the clients, which have grown tremendously due to some of our path breaking and innovative work. Hence, different approach while keeping the same principles in mind that we have always stood for is the biggest challenge.
BT: What do you think is the USP of Brandsmith?
RM: Customisation and content, synergy and relationships and a huge network base or what I fondly call Brandsmith's FQNet (Friendship Quotient), apart from a desire to co-create learning paths as we move forward with gusto. I was recently nominated for the Most Popular First Generation Entrepreneur Award and I owe it mostly to our USPs listed above.
BT: Which are the most famous and challenging projects done by Brandsmith?
RM: Well, every project that we have undertaken in the past is dear to me; nevertheless some of our work got us the much deserved headlines. Be it the taking over of the Statesman vintage car rally and  turning it around into India's biggest vintage sporting events, creating Brandsmith,s annual & the first of its kind vintage bike drive which has led to a huge spurt in restoration of vintage beauties in India, enhancing Indo-Latin American ties by evolving and executing multiple event and branding platforms for the Iberamerican countries (Spanish Speaking) like Ibermumbai (Spanish film festival), Peruvian food festival, cultural and educational exchange programs, launching international brands like Weetabix from UK & Ceres juices from South Africa, taking Brand India to countries like Japan by mixing spirtuality, food, music and films and churning out an Indo-Japanese festival, launching top albums of artists like Jal, Stereo Nation and the Aryans, starting the trend of Bollywood potboiler bashes in North India and synergising it with corporates, branding & reputation enhancement of some key high networth individuals, training NGO,s on rural branding under CAPART,  successfully executing BJP's innovative online campaign for New Delhi in the last general assembly elections, apart from rolling out some large format events & campaigns pan India. Each one came with its challenges and uniqueness. 2010 would see some great work from Brandsmith!
BT: Who would you consider to be your major competitors?
RM: I do not prefer talking about competitors as I have never bothered about them. Google places Brandsmith at the first or second position when it comes to film promotion and brand promotion companies, apart from dozens of other important keywords. However, that doesn't make our company the biggest. Hence, it's all about perception. Moreover, I am not in this field for competition but to do my own thing and to enjoy it. 
BT: What core competences do you look for in your employees?
RM: I believe that "small is big". In the branding business personal networking, synergy and relationships are important. In life there are two things content and relationships. If one has content and no relationships one can't grow and if you have relationships and no content you take a back seat (not clear). I look out for people who have focus and understand brands. The team should have an eye for synergy and should be passionate and enthusiastic about their work. I don't look for experts as everyone cannot be one and neither am I an expert myself. They need to be indefatigable learners and have a strategic orientation. However, the executions of the strategies are done by associates and partners, under of course my personal supervision.
BT: Has Brandsmith India been affected by the slowdown?
RM: Brandsmith has verticals like media services, brand management, consulting etc. With the slowdown fewer events have taken place which has affected certain verticals. However, verticals related to consulting and branding business benefited most during the recession. That was the time when companies needed to set up their shop and establish their presence. Moreover, we capitalised on the slowdown as we ventured into other areas like online business, dynamic websites and branding on the Internet. Moreover, we have done interesting work during the worst times like the BJP campaign for New Delhi, Jharkhand khadi and small scale industries promotons, etc. I am also on the visiting faculty and speak with senior managers of new age media and branding and I can create a need for them and fortunately for the solutions they have to come to Brandsmith. This was a strategic decision I took to go and talk to clients as they wanted us to do that. We conducted one day workshops on new age media and branding and how email marketing and social logging are important for ones business. The New Year has started with a bang for us with back to back launches, campaigns, entertainment initiatives and events and business consulting projects. Overall I can say that the recession has not affected us.
BT: What are your future plans?
RM: Future plans entail more aggressive inroads into the entertainment arena, maybe film production, creating an exclusive event property for the Indian Diaspora, stepping up our consulting business, consolidating our brand equity and more importantly taking out more time for my own self.  
BT: How do you think the small and medium enterprises (SMEs) are playing their part in strengthening India's economy?
RM: Small and medium enterprises across India are contributing significantly to India's economic development. Their contribution to industrial production, employment creation, exports, and for providing seedbed for enterprise development is well known. However, SMEs have been facing serious constraints and problems for their growth and development, more so in the context of globalisation of the Indian economy. Although many SMEs have withstood the onslaught of competition to a very large extent, several are closing down or are on the verge of closure due to intense competition and particularly due to liberalised import regime. Most of the SMEs need to improve their managerial skills and build their capacities to sustain growth and contribute to the Indian economy. Companies like Brandsmith can prove to be handy for SMEs by cost-effective and targeted solutions so as to help them differentiate from others. 
BT: During uncertain times, would you encourage the youth to take up entrepreneurship and what's your advice for budding entrepreneurs?
RM: Getting work experience for everyone is very important before starting something of their own. You need to work to understand the culture and work dynamics. While working you should pick up core skill sets which help you later in running your own company. I am not trained to be a journalist but I am one. Neither I am a trained brand manager but I am one. When I was taking such risks a lot of people discouraged me.  Fortunately I have been able to prove everyone wrong. However, it is very subjective. When you have a salaried job you don't have to be concerned about anyone but, when you are an entrepreneur you need to first shoulder the responsibilities of others and then yourself. Hence, do your own thing quietly and keep experimenting on your thoughts but get work experience for sure.