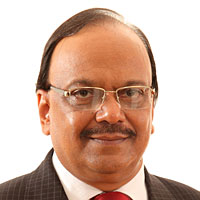 In a tete-a-tete with SMEntrepreneur, Vimal Kedia, MD, Manjushree Technopack Ltd, shares his views about his entrepreneurial journey and successful transition from one business to another. He also throws light on the biggest challenges facing today and opportunity areas where Manjushree is planning to focus on in the future.
Please share your entrepreneurial journey and transition from manufacturing umbrellas to offering complete packaging solutions.
The desire to do something of my own had bought me to Guwahati in the year 1977. But, I still had no idea what to start with. My innate sense of business in conjunction with market research and the local climatic conditions forced me to take a plunge into the umbrella industry. I started my own umbrella manufacturing plant with the initial capital of Rs 50,000. Soon after that we launched our brand of umbrellas under the name of 'Rhino Brand'.
Our umbrella brand was in great demand, and we had to augment its production capacity manifold. I targeted the affluent Tea Gardners from Assam to sell my products and soon 'Rhino' became their official brand. Guided by the right strategic moves, 'Rhino' went on to become the second most popular umbrella brand in the state. Deep down I knew that there were still miles to go.
It was during one of my visits to a friend in Delhi who introduced me to my next business venture. I was so profoundly impressed with the endless possibilities of plastic bag manufacturing industry that I resolved to set up my own plastic bags manufacturing unit. I wasted no time in getting my ideas into practice. It took me almost a year and a half to get the desired capital. Meanwhile I made sure that I utilised the time to conduct a thorough market survey to understand and identify my target customers' needs. With the expansion of the vision, I invited my younger brother Surendra Kedia to join me. Thus Manjushree Plastics was born in 1984.
Name some business challenges that you face today?
The challenges include high bank interest and finance cost.  For any business to grow, a debt is required with reasonable interest which in the last three years has increased.  Apart from this, availability of unskilled manpower that needs to be corrected by way of automation and simplification of manufacturing process is a big challenge.
What is your growth strategy to combat competition?
We plan to continue our expansion strategically in markets where we are not present and expand our footprints in the areas which we are already serving.  We have also built a world class facility for both our PET Preforms as well as bottles manufacturing unit that will help us to add new customers who are particular about Good Manufacturing Practices (GMP) as well as it will help us in retaining existing customers.  Apart from this, we continue to upgrade our infrastructure, moulds and machines and keep them up to date in our stay ahead of competition.
What is the current turnover? What is your projected turnover for the next five years?
We closed 2013-14 with the turnover of Rs 437 crore, and we are aiming to reach Rs 1000 crore by 2016. This will be achieved by way of expanding our current operations and addition of new facilities in organic growth cannot be ruled out.
What is the company's year-on-year growth rate?
Company's year-on-year growth has been about 25 per cent.
What is the total revenue mix? Which segment contributes major portion to the revenue?
At Manjushree, we have an excellent revenue mix that includes FMCG, regional customers as well as global markets.  While domestic markets exceeds in the overall mix, we get majority of our turnover from the beverages and packaged drinking water segments.
Which sectors in India are you going to target the most to reach the estimated revenue target?
We are not only focusing on one segment, but we will be putting our energy on dairy, edible oil and other emerging markets. Other than this, we will continue to offer products and services for the food and healthcare industries.
According to the New Companies Act 2013, spending 2 per cent of profits on CSR is now mandatory. How do you look at this new regulation and what is your personal view of giving back to the society?
We welcome the new Companies Act Rule wherein 2 per cent of our profits have to be spent towards CSR.  We have already made our plans and are establishing a plastic recycling center where we will be imparting knowledge to people regarding plastics recycling and disposal.  We plan to set this up in our new preform factory in Bangalore and will also engage the local families around the industrial area and teach them to make artifacts and articles from recycled plastics so that they can earn their livelihood by selling these wares.  Our manufacturing facility is on the way to Mysore which is a popular tourist destination, and there are lots of stops in between Bangalore and Mysore where local folks sell traditional items including the famous toy market in Chennapatna.  We wish to take inspiration from this model for our CSR also.
What would be your one success mantra for aspiring entrepreneurs?
Anyone in manufacturing business is to keep himself ahead of the time and take calculative risk to be ready to service the market before it demands. Hence the mantra is to do something different and be positive as well as forward thinking.  Be the first with new offerings rather than following the competition i.e. leadership will always keep you ahead.