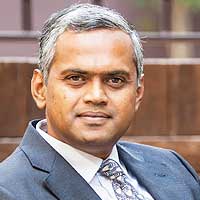 Tapan Rayaguru
Executive Director, Career Coaching Sunstone Business School
Tapan Rayaguru, Executive Director, Career Coaching, Sunstone Business School, talks more about the B-school market in India, tie-ups with foreign varsities and making students job-ready in a chat with SMEntrepreneur.
How do you position yourself in the intense B-School market in India and what are its growth drivers?
We see ourselves as an established leader in technology-led business education. The traditional business education, taught by PhDs with years of teaching experience, focuses on 'teaching' management theories. However, students today have access to unlimited information, available freely, and that too, from the best universities in the world. The technology has solved the information gap completely. We focus on applicability of concepts in real scenarios; on connecting the dots rather than collecting the dots. We have created a collaborative platform with accessible information where students can practice on problems with the help of their faculty, whom we call "coaches". These coaches are the industry leaders who apply the business concepts day in and day out.
Tell us about the programmes and fee structure.
We offer a flexible and affordable programme that can be completed in a 12-24 month period based on the student's ability to learn and find application of that learning at the workplace. Our programme is divided into three levels each of four months duration allowing the student to take a break between each level as their learning and other life factors permit:
Level 1 is Foundations of Management for 4 months duration costing Rs 55,000. Level 2 is Growth Strategies for 4 months for Rs 85,000 and Level 3 is Shareholder Value for 4 months is Rs 1,25,000. For each of the levels, a certificate is provided acknowledging their competence level. A Post Graduate Programme in Management (PGPM) is offered to those that clear all the three levels.
What assistance is offered in terms of placements?
We offer placement services for everyone that completes the programme, to ensure their long term career success by getting into business centric roles. We drive our placement programme through the tremendous industry network of our alumni, course directors, management team which is better than any traditional business school operating in an isolated academic environment.
Do you have tie-ups with any foreign varsities for any of yours programmes?
We have a tie-up with Harvard for all their content. We pay them a royalty for each student so that our students have access to the best management theory that is available anywhere in the world. We have tie-ups with companies and industry leaders who help design and deliver the 'application' oriented methodology that we follow for our program. They coach our students from their experience and also inspire them to deliver beyond their own expectations.
What enables Sunstone Business School to make its students job-ready?
Our students are already working professional in the middle of their career who want to move into more business centric roles as managers. We give them a preview of that through our unique 'Problem Based Learning' methodology where they solve real business problems that they are likely to face at their workplace as they get into managerial business roles.
Since the coaching staff includes industry leaders who have played the kind of roles our students are interested in, we find it rather important to share experiences than 'teach' theories. Getting our students ready for business roles is not a challenge at Sunstone, but really is our core strength.
How are you planning to move ahead in the coming five years period?
Our goal is to fundamentally alter the contours of business education by democratising it – making it available to everyone. With over 300 students in the third year of existence we are well on our way to helping more mid-career technology professionals move to business roles in India. We want to be the place of choice for working professionals across the globe to learn about business.