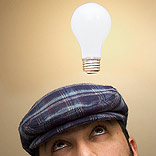 Are you going to start a business because someone else has been very successful in the same kind of business?  Or are you going to start a business because the newspapers say this is the hottest upcoming sector? Then do not be surprised when your business goes bust. It is not always a good idea to start a business with a 'me too' attitude.
Starting a business is most importantly about believing in an idea, the excitement of making it work and the thrill of seeing it frutifying. However given the fact that there are so many lucrative choices available, startups often get confused and in the absence of any concrete guidance, they are not able to make the right choice.
Have Faith in Your Idea
Quite a number of entrepreneurs have made it big because they were struck with an innovative idea, an unresolved pain point and made it big. Gulraj Shahpuri, founder of Promise a personality development company for children opines, when you have an exciting idea in your head, the chances of it succeeding to a great extent depends on your faith in the idea. The strong faith within you will enable you to persevere and persist with the idea to make it work. The strength of your faith will help you not to be bogged down by initial setbacks.
Look within for Value
You can come down to a winning business idea also by introspecting. Lina Ashar the lady behind Kangaroo Kids says, 'When you are wondering which business will be successful for you, go back to your childhood days.  Introspect on what it was that interested you most and what was it that you loved doing.' Generally what we love doing is the same as what we are best at doing. So if you have a combination of special skills which can be leveraged to meet a strongly unfulfilled need of the society around you, your business can rock.
Sense Opportunity
Nandini Vaidyanathan, who teaches entrepreneurship and runs a company, Startups, says, you can be successful in your chosen business idea even if you have entered in with a 'me too' attitude. You see a lot of activity happening in a particular industry and sense opportunity. Yes you can take the plunge but be sure to create a very strong value addition which others are not offering. This is what can be called as incremental innovation which has been enabled by information technology. Put yourself in the shoes of the customer and understand the pain point that hasn't been addressed yet. 
In today's scenario however businesses are very complex, requiring a pool of skills. However today's entrepreneur is smart. Skills and competencies can be acquired too. Another way is to bring in people with complimentary skills and get going...