Do you really want to become an entrepreneur?
There are a number of not-so-exciting things about being your own boss but if you can withstand them success will surely come your way.
Tags: There are a number of not-so-exciting things about being your own boss but if you can withstand them success will surely come your way, Do you really want to become an entrepreneur?
BY Entrepreneur | Mar 08, 2010 comments ( 7 ) |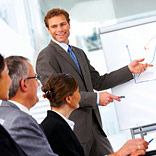 'I wanted to be my own boss' this is the most common reason most people give for quitting their '9 to 5' job and becoming an entrepreneur. But being your own boss is not as simple as it seems. Along with it come a lot of responsibilities, which are not so exciting. As an entrepreneur who does not want to become an employee you must be aware of them; after all you do not want to get caught in the cobweb.
Self-motivation – Most of the time it's the fear of being late for work and getting a salary deduction that makes you get out of your bed in the morning; projects are completed on time because the boss will ask for reasons for not meeting your deadline. But when you are on your own there will be a lot of liberties. Whether you take advantage of it or disadvantage will depend on you. Avoid becoming lazy and not assessing your performance regularly. You must strictly discipline yourself.
Building credibility – If you are young or fresher in your industry, you m ight not be known to many people and hence with no credibility in the market. There might be big players, who can pose competition. These were things you hardly thought about as an employee but now they will be determining factors of your business.
Loneliness – No matter how big a loner you are, the loneliness of an entrepreneur is something only those with experience can understand. If you do not have somebody to share your vision the walk along the entrepreneurial journey becomes even more difficult. Those with business partners are not so vulnerable but others are.
No steady income – You must be mentally prepared to give up the security of a regular pay-check. Their might not be any income for quite long durations. You might be left with just your savings and no clients. But do not lose hope. Think of solutions.
Work schedule – The work schedule of an entrepreneur is never predictable. It might be months before you can spend an entire weekend with your family. An emergency can keep you from family functions and sick leaves.
Erratic schedule – "At 7 in the morning my delivery boy called up to say that he won't turn up for work. Being a start-up I do not have a back-up. In the day I had an important meeting with a client which could not be rescheduled. To add to all this the Internet connection at my office was not working. And I am the only one who had to take care of all these. As an employee I had never thought about these things; Internet failure meant calling up the IT department and there would be other delivery boys to take care if one did not turn up," says Ashish Jain, who has just started his own company.
It is not an easy ride that you are planning to undertake. But what's the fun in taking a ride which is not challenging!
Please add your comment
Rashmi
March 18, 2010 at 11:51 pm
Hey! true are the all statements mentioned there, only if one goes through the same can realise the success is nearing & the more you clear hurdles the more is the success rate..
Reply |
Rajul Pratap
March 10, 2010 at 12:18 am
Hey completely true, being an start up, we really understand the value of these words. Hey Rahul, even we are from Faridabad, you can contact me @ rajulpratap@gmail.com
Reply |
apurva singh
March 08, 2010 at 7:25 am
I have experienced every point written in this blog post. but still i belive this is the best thing ever happened to me.
Reply |
Rahul Tugnait
February 22, 2010 at 8:26 am
I want to become n enterpreneur , How would i and what would i do for this i am not focussed regarding what i am suppose to do i want to get rid of this 09 am to 06 pm job , great power comes with great responsiblity as i am a resident of faridabad , its been a long time in service industry i am not able to explore myself . I want to do a small scale business .
Reply |
vikas
February 14, 2010 at 11:48 am
Hellow, This is vikas korlekar, i am looking for industrial product distributor in india - pune area. Currently associated with Industries & brand - 3M industrial,Dynabrade,Fuji power tools, Cibo tools, Corium Chemicials, Cooper tools. I am looking for simmilar brands willing to promote in india for Aerospace, Marine, Automobile, other industries. awaiting for your detials regards Vikas Korlekar Mobile : 9922115068
Reply |
Hushan
February 08, 2010 at 11:03 pm
It is really very good statment & usefull for the new comer into own business.
Reply |
DENNIS JOSEPH
February 05, 2010 at 10:14 am
Kindly let me know how to become an enterprenuer
Reply |