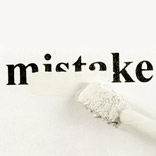 It is alright to make mistakes and learn from them. But it is always better to learn from other peoples' mistakes. And when it comes to starting your own business, it is still better to recognize the mistakes that most of the businessmen make; after all it's the question of your business.
Here we list 5 starts-up mistakes that almost everybody makes:
Undeveloped Startup Idea - No matter how good your business idea is, if you fail to develop it, success will be far from you. "Document the idea well. That is the road map that you have to follow while you are doing business and that is the road that will lead you to success," says Nandini Vaidyanathan a mentor for start-ups.
Ignoring legal obligations - Most entrepreneurs start small and so do not care about even the basic legal aspects of a business like getting registered. Every entrepreneur must understand and secure all necessary licenses and permits and also pay the required taxes.
Lack of financial management – "Start-ups usually mixe their personal and business finances. This does not cause immediate trouble but later in the business it becomes difficult to get tax benefits and avail finances from venture capitalists and other sources," says Kartik Varma, Co-Founder, iTrust who is a financial adviser to numerous entrepreneurs and is also an entrepreneur himself.
Lack of enough liquid assets - "One should have enough liquid assets to sustain for at least one year," says Varma. People usually start their business without realizing that for quiet sometime it might not bring in money and so they will have to keep putting in money to keep it going.
Unplanned web presence - The internet is how people come to know of products and services these days. "If you aren't doing at least some part of your business over the Web, you're missing out on a huge opportunity. Today, the Web forms either an integral part of the business or a fabulous means to extend it," says an executive from the Blue Apple Technologies Pvt. Ltd.
Lack of perseverance - Start-ups loose patience when their efforts do not yield the desired results immediately. Sanjeev Bikhchandani, co-founder and CEO of naukri.com says, "Everybody makes their share of mistakes. Sometimes you are right sometimes you are wrong. But what one should not loose is patience and perseverance. They are the key to success."