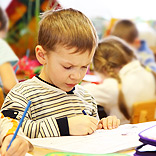 With the increasing awareness, women in India, no longer quit their jobs after becoming mothers. And with the decreasing popularity of the joint family system grandparents, uncles or aunts are hardly there to look after the children. So what's the solution?
 With every necessity, there arises a business opportunity. Similarly, there is an opportunity in this case too. The business opportunity is termed as day care centre or crèche best suited for children of working mothers.
A crèche is a centre that enrolls the children of working parents and has a staff to take care of them. Working people, rather than giving the responsibility of looking after their children to maids, who are not educated enough to take proper care of the children, prefer to leave them at day care centers or crèches. The children are taken care of by people trained to handle them. 
Right opportunity for right people
A crèche can be the right business opportunity for women especially, who have passion for the young ones. House wives fit the bill to start such a venture. Most of them have either their own kids or the experience of raising them, and that is the required skill.
The opportunity though need not be limited to house wives. Anybody who has passion for children can start a crèche. 
Business Basics
A crèche or a day care centre can be for any age group of children ranging from a few months to 10 years old, depending on one's convenience and of course market demand. The working hours also need to be similar to the office hours. Arti Dua, who runs a crèche, Kids Shine in Delhi says, "We work from 8 in the morning to 8 in the evening. Parents can leave their children with us anytime during these hours. Some children come to us only for a couple of hours, others stay longer." 
Facilities
When it comes to children, parents become extra careful with the safety and facilities that are available at a crèche. "The basic facilities a parent looks for is the environment, safety and the passion with which a caretaker takes care of the children," says Sheetal Gupta who runs a crèche Wonder Years in Delhi.
Hygiene
The pre-requisite of the business is hygiene. No parent will want to leave their children at a place, which is unclean and a house of germs and diseases. Kids as it is make the place untidy. So a crèche must have a house-keeping staff, to keep the place clean. Everyday before the children's arrival, the daily cleaning discourse should have been taken care of, so that children get a healthy environment to grow. 
Food
Food is another important factor that might determine the choice of a crèche. "While some parents prefer to send home-cooked food for their children others want the crèche to serve meals. The crèches should maintain the standard of hygiene and also the nutritional value keeping in mind the young ones. Taste and variety are also important factors. Parents should be notified about the dishes that are provided," says Dua.
Recreation
Kids should be kept engaged otherwise if they are not happy they will miss their parents and keep crying. But this is not the only reason for keeping them engaged. Playing helps in the learning process of children. "A lot of age based activities should be there. Every child should have a playtime and special toys so that they do something productive," says Gupta whose crèche, Wonder Years, has 13 children from age group of 3 months to 6 years. 
Educational activities
While working with children, it is important to keep them entertained. Just getting toys and switching on the television might keep the children busy and happy but parents may want more. Since their kids spend a major part of the day at your crèche, they will prefer that you educate them a little, may be to differentiate between colours, counting and alphabets. You can also prepare the children for the pre-school so that it becomes easier to clear the entrance test.
Team
"When starting a crèche you need to have a team of people who are passionate about children. This is the basic requirement of this profession," says Gupta. The size of the team will of course depend on the number of children you plan to take in. Your team should have some trained people preferably women, who can educate the children and look after their food. , "One person can handle 2-3 children at a time. So one must hire accordingly," she adds.
Initial Investment
Place, team and toys are the main expenses that this business incurs. So if you are starting a business at your home a major part of your expense is saved. All you need is toys and some helping hands. If you plan to start your business out of your home you can either buy property or rent them. The break-even depends on the size of your business but in most cases it does not exceed two years. 
Location
Like any other business the location is very important. There are two favourable locations to start a crèche; near a residential area and at a place where there are a lot of offices. It will be convenient for people to drop their children, in these areas.