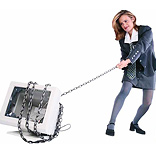 The small and medium business (SMBs) sector which constitutes 80% of the total number of industrial enterprises and has the potential to generate large number of jobs in India faces the maximum challenges when it comes to technology upgradation.
While most of the large companies have financial as well as technical capacity to identify technological sources and evaluate alternate technologies that would suit their requirements, unfortunately, this capacity is missing in the case of most small and medium enterprises (SMEs).
Apart from poor financial situations, low levels of R&D, poor adaptability to changing trade trends, non-availability of technically trained human resources, lack of management skills and access to technological information are some of the reasons that are blocking the growth of SMEs.
Some of the general but major technological problems faced by the SMEs can be clubbed as:
Inability to keep pace with technological development due to financial difficulties. Even if they hire, their ability to retain IT talent is not much, they can't afford to retain an IT guy beyond 6-9 months.
In spite of India being an IT capital from a global perspective, no SME can still go forth and hire a credible IT professional. People prefer to work for a TCS, Infosys and not a startup.
Since all the small and medium businesses are not set-up by techies, most of those who do not have a technology background are unable to view the technical needs of their enterprise.
SMEs face immense lack of support from vendors. At any given point they deal with more than one vendor, with each supplying different things such as network, personal computers and ERP-related software. By the time they take care of one aspect of technology like software the other one for example hardware changes. Secondly, big companies have stringent quality norms. But the smaller companies don't adhere to similar standards. So vendors take advantage of this.
Readymade solutions for these problems are not available at least in the Indian market. But with the potential of the emerging industry, government, IT companies as well as others have realized the importance of the sector. The problems of the sector have been identified and solutions are being thought of. Even the government has woken up to the needs of SMEs.
The government of India has launched a Technology Upgradation Scheme (TUF) sponsored by the Center under which concessional bank loans are given to the small and medium business undertakings through a network of nodal and co-opted banks and financial institutions like ICICI, Bank of India, Indian Overseas Bank etc. But the scheme is limited to certain sectors like textile. The prime minister has also set up a task force for the development of SMEs which has sub-committees on infrastructure/Technology/Skill Development. The task force is to work on the lines of TUF for the betterment of SMEs under these heads.
Keeping in mind the needs of the emerging sector, the IT giants like TCS, Wipro have plans for coming out with SMB solutions. 'We have SMB Solutions for various aspects of installing and updating of technology. The help desk for SMB Solutions works 24X7,' said an executive from TCS.
Wipro has similar schemes for SMEs. "The company looks at providing end-to-end services ranging from deploying core IT infrastructure to extending consulting services. We are increasingly trying to reach out to the SME market and intend to bring down the same set of services and solutions bundled together to the SME sector," said an executive of the company.
These efforts are still not enough to make technological upgradation easy for the SMEs. There is a lack of awareness and also initiative to avail of technological upgradation schemes launched by the government and corporate alike.