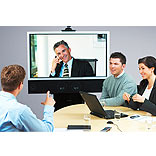 In  a major turnaround of sorts, Graham Bell gave us the gift of phone. Winds of progress then innovated Tele Conference that allowed audio networking between more than two people at a time. Closer to its heels came Video Conferencing that allowed visualisation of the participating people as they talked.  Superseding this is Virtual Conferencing also called Tele presence which permits sharing of datas apart from the above mentioned features. So, if you are hard up for time, feel the need to save on  business costs like travelling expenses and hotel bills whilst still preferring to carry out your business communications and meetings smoothly, Virtual Conferencing is the best bet for you. In other words, it is a cost effective, advanced and universally accessible method of a professional internet communication entailing a technology that offers virtual meeting spaces where one can;
Share applications and presentations
Perform unified web browsing
Record and archive meetings
Terms, types and applications
A "Webinar", also called a "web-based seminar" is used to deliver workshops, seminars or lectures to a large group of people over the internet.  Its benefits can be found in educational purposes, sales and marketing and even training.  Usually there is one presenter delivering a message to the audience, with limited audience participation.  Audience members may be invited to participate in a poll or survey, or ask questions.
Like webinar, a "Webcast" is aimed towards a large audience and used for educational purposes, sales and marketing and training.  Used mainly for announcements or broadcasting live events, Webcasts are   typically much less of an interactive environment than a Webinar.
Also known as a "web meeting" or "online meeting", a "Web Conference" is basically a meeting held online.  Most web conference applications allow you to share documents such as Power Point Presentations, Word Documents, Excel Documents as well as multimedia files and slideshows.  Unlike a webinar, web conferences are typically reserved for smaller audiences who are looking for more interaction and collaboration between attendees.
Technology
Puneet Wahi of Regus, Manilla (H.O) informs, "You need high definition screen device. Generally, H232 is the most popular screen used. Other requisites are good band for internet connection with speed of 2mbps or more, webcam and powerful power backup and a dedicated line".
He further adds, "Then, there is a bridging company that connects all through an IP address and creates a virtual space or room so that you can see each other".
Benefits
Cost effective
F2F integration-A natural across the table experience
Increases time flexibility
Reduces organization's carbon footprints
Increases management efficiency and productivity
Utsav Seth, CEO, Pavers England shares, "Virtual conferencing facilitates data conferences where you share documents and applications with remote participants. Wonderful, cost effective and useful for increasing management efficiency and productivity".
Who can benefit:
Since the technology is cost effective and universally applicable, it suits all levels of entrepreneurship, be it small, medium or large, provided one can afford it.
Mr. Madhusudan Thakur, Country-Head, Regus-India, (providers of Telespace solutions) who gave us most of the information adds here, "Moreover, it is not specific to any sector, any business that wants to interact with clients, partners or internal staff over distance can benefit from virtual conferencing".
Cost
"Normally, cost varies depending on the number of connections  that you make. We charge 24,900 for a 4 seater conference and so on", Wahi informs.
Flaws
Vishal Mehta, CEO of infibeam.com shares, "Every technology has its limitations. Technology failure, bad device compatibility break up due to power failure (without any back up), bad weather, bad line, server failure, communication distortions, audio shortcomings etc can prove that they are but technology that go awry sometime".
Future
The evolving technologies are matching steps with evolving business practices. The global revolution is nudging the Indian companies to go virtual. Modern businesses are constantly on the lookout for new technology. The technology is vital because it changes the way you can do things. As per a Gartner Group study, VC market is expected to grow from 3.8 $ billion to 8.6 billion by 2013 ( a 17.8 CAGR).
Here Thakur justifies, "Any solution that addresses three of the great business challenges of the twenty –first century ie sustainability, costs and business continuity planning-has to be worth considering and cannot go wrong." No wonder, modern businesses constrained for time and money will find their best solution in VC!