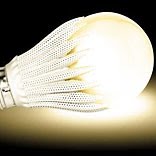 Defining off-grid lighting
LED's(Light Emitting Diode's) are special diodes that emit light when connected in a circuit. They are frequently used as "pilot" lights in electronic appliances to indicate whether the circuit is closed or not. They run on non-conventional energy which is also called green energy (example solar and wind). LED lights make usage of non-conventional means of energy a viable solution. Capex for per watt power generation through off-grid methods are high. Usage of LED reduces requirement of usage of power thus, directly reducing the capital expenditure.

Usage
At present, lightings are used for emergency purposes ( example solar lantern). But it can be used at every place. Capital expenditure on source of generation is a major issue. Off grid power requires storage in the form of batteries which are charged using non-conventional form of energy (Solar and wind). Equipments required for solar and wind energy are costly.

Benefits
Long life
LED lighting life is up to 100,000 hours. In a typical night time burning situation, this equates to approximately 25 years.
Reliability
LEDs, as electronic devices, offer superb reliability over conventional lamps.
Maintenance free operation
No routine maintenance is required to ensure continued performance, so reducing costs and avoiding the possibility of missed maintenance.
Energy efficient
With advanced leds luminaire design, energy efficient operation is ensured.
Environmental benefits
Lamp disposal problems are eliminated due to the long life of LED lights, and no resources are used in routine.
maintenance.
New lighting possibilities
New luminaire designs are made possible by the small size of LEDs and eliminating the need to allow for maintenance required for conventional lamps
Starting the business
Roughly equipments for off grid power generation cost about Rs.130/ per watt plus batteries to store the generated power (as per requirement). Approximately Rs.1 crore. is the initial investment required for off grid lighting solution business to start on a small scale.
Future
LEDs are complimentary to off grid systems. Thus, one who is looking to adapt off-grid means as source of power will definitely be bullish in adapting LED lights. This will save capex of off-grid system which can be employed to adapt LED lights!