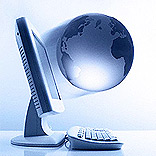 "Unaffordable! Too costly!" The Indian SMEs have long been harping about the high cost structure attached to IT tools like wireless products and service, virtual business desktops and accounting software that would have otherwise helped them make their business more efficient and organized. But of late some IT companies, identifying the vastness of the unmet IT needs of SMEs are swiftly developing affordable products and services specifically targeted to the SMEs. This would soon empower the SMEs to achieve world class standard in their functioning.  
Affordable wireless products and services for SMEs 
Buffalo Technologies, a leading global provider of networking, storage and multi-media solutions for the home and small business environments is all set to launch a range of wireless products and services at affordable prices specifically targeted to the Indian SMEs. The company has recently announced the launch of its Asymmetric Digital Subscriber Line (ADSL) modem and router suitable for Indian SMEs and Small Office Home Office (SoHo) segment and is low cost, highly efficient, easy to install and maintain. Also this product uses the latest Wireless LAN technology to deliver Internet connections with a speed of up to 150 Mb ps which is many times faster than Buffalo's previous offerings. In order to promote these products, Buffalo has partnered with Superton Electronics, a mid-sized IT distributor based in Kolkata.  
Finally affordable accounting software for SMEs 
Busy Infotech, a New Delhi based firm that develops and markets business accounting software has come up with highly
efficient accounting software for the Indian SMEs called the Busy Starter's edition, which is said to have all the features essential for SMEs. It is easy to install and use and is one of the cheapest accounting software available in India, priced at Rs 199. The Company's market survey had revealed that 80% small businesses used pirated accounting software as the original software was quite expensive. Busy Starter's edition would thus solve this twin problem of piracy and the unaffordability of the accounting software.  The company is set to position itself in the rural and semi-urban markets in India and is planning to launch this product in countries like Pakistan, Nepal Sri Lanka and Middle-east where the accounting needs are similar to that of India.  
Affordable virtual business desktop for SMEs 
Novoally softwares has recently launched an affordable virtual business desktop specifically for the Indian SMEs priced at just Rs 666 per user. Earlier the only option for the SMEs to manage their enterprise's sales, purchase, inventory, manufacturing, accounts and reports was to install and use an Enterprise Resource Planning (ERP) system which is expensive due to the cost involved in purchasing software, hardware and server. But this new system which is like an online computer does the same job that an ERP system does at relatively much cheaper rate. This system can be opened using any web browser and the stored business data can be accessed from any corner of earth with an internet connection. Also the access to the system is secured by 256 bit SSL, which is the most powerful encryption commercially available today.